Estimated read time: 2-3 minutes
This archived news story is available only for your personal, non-commercial use. Information in the story may be outdated or superseded by additional information. Reading or replaying the story in its archived form does not constitute a republication of the story.
Samantha Hayes ReportingAfter five and a half hours trapped in the dirt, a construction worker's life was saved in a slow and tedious rescue effort.
Darren Taylor is now at LDS hospital where doctors say he has no serious injuries, not even a broken bone. He's being treated for pain and will probably be released tomorrow.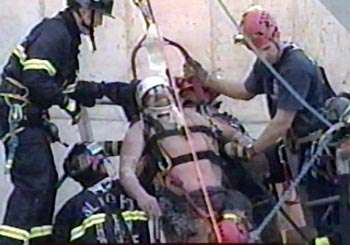 Meanwhile, the rescue apparatus in place was so intricate, firefighters are still on the scene disassembling it.
Fourteen feet down, a concrete wall on one side, a wall of dirt on the other, that is the area where 43-year old Darren Taylor was trapped for nearly six hours.
Scott Freitag, Salt Lake City Fire: "That's a long time even in good weather to have your body compressed like that."
Taylor is a construction worker and came to the scene alone this afternoon to move snow off the footings. Inside the trench the ground gave way and buried him up to his waist.
Scott Freitag: "He had no phone, no way of calling out. He yelled for some time, but no one in the area heard him so he just quit yelling and nearly was unconscious when he was found by his boss."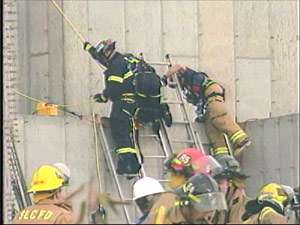 Taylor was stabilized with IV's of warm fluid, painkillers, and oxygen while the dirt around his legs was removed. With ropes and pulleys Taylor was slowly elevated on stretcher into an ambulance
Gene Silotti, Father-in-Law: "Thankful the good Lord is watching over him and it wasn't any worse than it was."
Fire fighters say the reason this may have happened is because temperatures today got just warm enough some of the snow was able to melt and the ground could move.
Scott Freitag: "Everything that caused him to go in the hole also caused us problems."
Frigid temperatures, unstable conditions, a very confined space, but still a successful rescue proved no problem was insurmountable today.
It was one of the first major operations for a newly formed heavy rescue team--12 individuals from Salt Lake City and County. This was the first time since the tornado that the hospital had specially trained paramedics on a scene.
×
Most recent Utah stories