Estimated read time: 3-4 minutes
This archived news story is available only for your personal, non-commercial use. Information in the story may be outdated or superseded by additional information. Reading or replaying the story in its archived form does not constitute a republication of the story.
Dick Nourse ReportingThere are times we sit at the news desk and think about people we've done stories on in the past, where they are, how they're doing.
For example, back in 1988, our good friend Shelley Thomas did a documentary on a Sandy family who had quadruplets. It was quite the medical story back then. Shelley followed their story from late pregnancy, to delivery, to when they went home. So, whatever happened to the kids?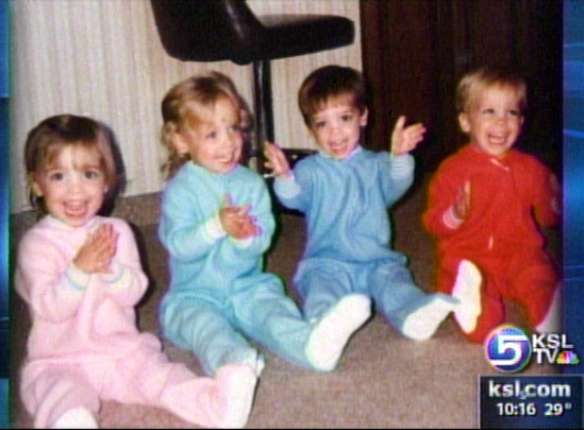 For dramatic entrances it's hard to beat the arrival of Jordan and Gregory, and Heidi and Amy Cook.
Sherri Cook, 1988, LDS Hospital: "Oh honey, I'm so happy."
LDS Hospital assembled an unprecedented medical team called, naturally, the Quad Squad. They ensured the babies would arrive and thrive.
Sherri Cook, Mom: "You know it just seems like yesterday, and we can't even believe it's been 18 years. We really can't, that times gone by so fast."
"I'm Heidi Cook, and right now I'm working three jobs..."
"My name is Amy Cook, and I'm a freshman at college..."
"My name is Greg, and right now I'm just attending college with my buddies and just working for my dad, prepping houses."
"I am Scott Jordan Cook. Basically, I'm living the college life..."
There were two daughters before the quads and one more son after. Looking back, the unflappable dad will now admit feeding and diapering all those babies wasn't easy.
Scott Cook, quads' father: "From two to four was kind of a blur; and when they turned four we realized that life did go on."
For Jordan, Greg, Heidi, and Amy, being a quad is mostly terrific.
Question: "What's the best thing about it?"
Jordan: "Just being together."
Heidi: "And we'll have classes together."
Question: "What's the worst thing about it?"
All Quads: "Birthdays!"
And what's the weirdest question the quads get?
Heidi: "I actually had someone ask if we have the same birthday, like, 'Do you have the same birthday?'"
Amy: "Like, 'When are the other ones?' And I'm, like, 'The same day.'"
Jordan: "Oh, probably one of the dumbest things that somebody said to me was they asked if I was a quadriplegic. I'm not!" Greg: "I think one of the dumbest questions I get asked is if I have 'hot' sisters, cause I don't really want to answer that!"
Dick Nourse: "What about dating?"
Greg: "Who dates these days?"
Quads: (hemming and hawing)
Dick Nourse: "You're just seeing someone?"
Heidi/Amy, in unison: "Nooo!!!"
Sherri: "We just had a breakup."
Heidi: "I am now single."
Sherri: "Are you sensing some drama? Oh, we've got more drama here than you can imagine!"
Dick Nourse: "How about you guys...girlfriends?"
Jordan: "I wish!"
Greg: "Oh, I can't find one. That's the problem!"
Dick Nourse: "You probably all want to settle down some day and have quadruplets!!!!"
Jordan: "Yeah, I want twins, or triplets. That would be cool!"
Heidi: "And live by each other and get married at the same time and have kids at the same time."
Jordan: "That would be cool!"
The Cooks already had two daughters before the quads came along. Another son came along after that. They're one big happy family!
×
Most recent Utah stories