Estimated read time: 2-3 minutes
This archived news story is available only for your personal, non-commercial use. Information in the story may be outdated or superseded by additional information. Reading or replaying the story in its archived form does not constitute a republication of the story.
Kimberly Houk ReportingIn a crowded courtroom today a man accused of drunk driving came face to face with the mother of the boy he allegedly killed. The prosecution is urging the judge to send Tory Jacques to trial for automobile homicide and driving under the influence.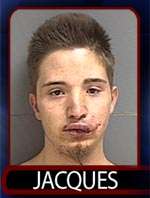 The judge heard from several witnesses, and one told the judge Jacques tried to hit him with his car 30 minutes before he ran over the Smith family, killing a six-year old boy and severely injuring his siblings.
Johns: "I thought he did it on purpose. He purposely tried to run them down. He purposely tried to run me down, and 30 minutes later he successfully runs the family down."
Silver Bear Johns was a powerful witness for the prosecution today, telling the judge about a run in he had with the defendant just minutes before police say Jacques ran over a family of four. Johns says Jacques almost hit his car, and when he pulled over Jacques pulled up behind him.
Johns: "I take a couple steps toward his car, and he spins his tires and attempts to hit me."
Johns says Jacques side swept his car and took off. 30 minutes later, while a father and his three kids walked to a McDonald's in Magna, police say Jacques jumped the curb and hit them, killing six-year old Darius, who was known to his family as Buddha.
Liza Smith, Victim's Mother: "I don't think he was out to kill my son. Unfortunately, it happened, and he should be held accountable for that."
The boy's mother faced Jacques for the first time in court.
Liza Smith: "There's really no words to describe. I haven't been able to face Tory. I always see the back of him or the side of him. He hasn't had the courage to look at me yet."
Her other two children survived the crash, but were badly injured.
Smith: "They're seeing ophthalmologists, optometrists, psychologists, neurologists, orthopedic surgeons, and that's just the tip of the iceberg."
It's been a long road towards recovery for the Smith family, both physically and emotionally.
Smith: "It's not easy. I keep a picture of Buddha right by me."
Jacques will be back in court next month for more hearings. At that time the judge will decide if he's going to trial.
×
Most recent Utah stories