Estimated read time: 2-3 minutes
This archived news story is available only for your personal, non-commercial use. Information in the story may be outdated or superseded by additional information. Reading or replaying the story in its archived form does not constitute a republication of the story.
Kim Johnson ReportingA Utah artist marked a milestone last weekend; she opened a show at a Salt Lake Gallery. It marks a comeback from an illness for a woman whose passion is also her curse.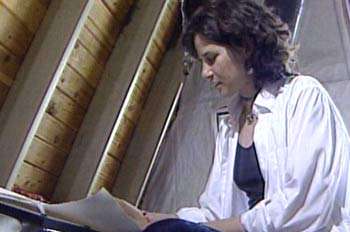 Along with a lovely dress, Holly Pendergast wore a mask to the opening of her art show in Salt Lake last weekend. City air makes her extremely sick. Holly suffers from a disorder called MCS--Multiple Chemical Sensitivities, the city makes her extremely ill.
A reaction starts with a metal taste in her mouth, a burning sensation in her eyes, and nausea, then gets worse.
Holly Pendergast: "I become dizzy. I become confused really easily. I can't think clearly. I can't put sentences together. I become disoriented."
So she lives and works in the mountains overlooking Rockport Reservoir in a sort of self-imposed chemical free exile. Trips into town come with a price.
Holly: "I can be in a store for a couple hours, but then it takes a day to recover from that. I can't go clothes shopping. I can't go out. I love being around people. I love going to concerts and I can't do any of that."
Even her artistic passion has been altered by her illness.
Holly: "End of last summer I stopped painting with oils. It was devastating to me because that's my love and my whole passion."
Her oil painting days behind her, Holly has embraced water colors, and prays she doesn't become sensitive to them."
Holly: "Sometimes, I tell people I paint like my hair is on fire, because I don't know what tomorrow is going to look like. I keep thinking if I can just get one more painting out that somehow it will bring some kind of peace and I won't have this need to paint anymore, but it hasn't worked yet."
But she says her illness has broadened her artistic view of life.
Holly: "I think my figures are starting to distort more as a result of this, because of the fragility of the whole situation. So I'm seeing that in life, in people, and in myself."
She appreciates what she can still do and says art will be a part of her future, with or without paint.
Holly: "I'll always draw. I'll always have that."
Holly's art work will be on display at the Forum Gallery in Salt Lake through April 10th.
×
Most recent Utah stories