Estimated read time: 2-3 minutes
This archived news story is available only for your personal, non-commercial use. Information in the story may be outdated or superseded by additional information. Reading or replaying the story in its archived form does not constitute a republication of the story.
Ed Yeates ReportingHave you ever seen an elephant fly? Of course not! But in southern Utah, we've now seen a 200-million year old dinosaur squat - after scientists there uncovered one of the rarest discoveries in the world.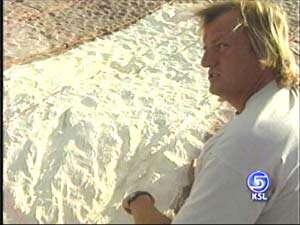 St. George may be one of southern Utah's fastest growing cities, but 200 million years ago it was covered with a huge lake filled with delicious fish - a perfect belly filling dinner for a one thousand pound, 20 foot long meat eating dinosaur.
Andrew Milner/St. George Paleontologist: "And we kind of determined that we actually had two sets of squats, so this animal actually hopped forward and left a second impression."
Turns out this big fella came out of the water, perhaps to dry off and rest in the warm sun. Over the years, bone diggers have unearthed thousands of dinosaur tracks showing how these big beasts walked and migrated. But resting, slumbering, even sleeping? This is a rare find, one of only three now in the world.
Dinosaurs had a very rigid spine. Like what many believe are their modern day descendants, the birds. They couldn't lie down to sleep. They certainly couldn't perch on a branch. Instead, they squatted like a chicken."
James Kirkland/State Paleontologist: "It flexed its feet down, completely put its feet down, completely put the ankles down on the ground, rested its front feet down, it's pelvis supporting the weight on the back."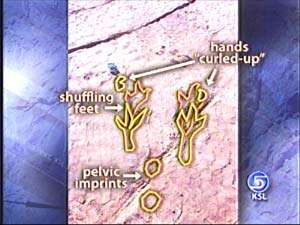 The back feet shuffled as the big boy squatted. What during feasting are viscous front claws became gently curled up with the thumb claw in front. When finished with its slumber, it got up and stepped away, the tail temporarily dragging behind.
Researchers made rubberized casts of this latest discovery, since construction crews tomorrow will begin tearing up the area to make way for St. George's new $1.2 million dinosaur museum. That building will eventually protect all the other tracks found at this historic site.
×
Most recent Utah stories