Estimated read time: 3-4 minutes
This archived news story is available only for your personal, non-commercial use. Information in the story may be outdated or superseded by additional information. Reading or replaying the story in its archived form does not constitute a republication of the story.
SALT LAKE COUNTY -- A billion dollar construction project at Camp Williams has attracted huge interest from contractors. The new cyber security center will be built and run by the National Security Agency.
Construction of the digital monitoring center is expected to generate up to 10,000 jobs and 100 to 200 permanent jobs once it's fully operational.
The U.S. Department of Defense held an open house Thursday morning for contractors interested in doing work on the center. Response was overwhelming because it's a huge opportunity to be involved in a government project that will last for two years. It was a packed house, overflowing with contractors eager to be a part of building the Utah Data Center.
Kelly Kariger, with KW Excavation, said, "That's why we're here. We're a small business and very interested in working out here."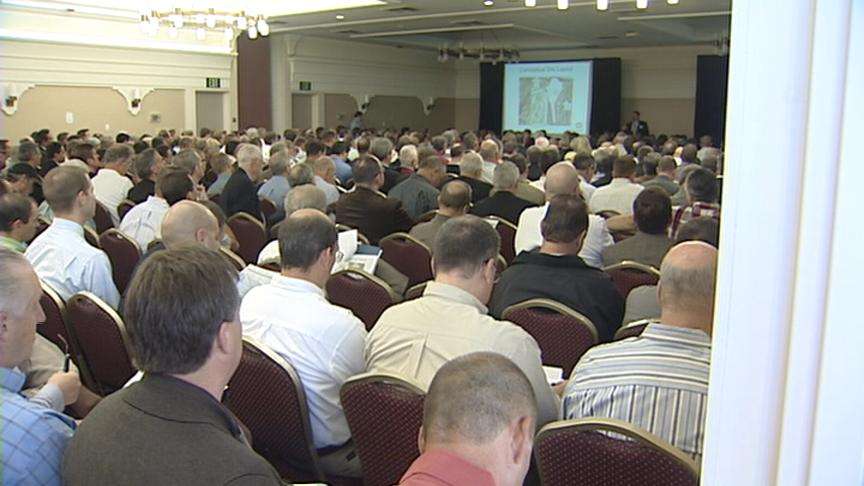 "For a Salt Lake-based company like ours, it would be a multi-year project and very significant," said Mike Dennison with Technical Building Systems.
Busloads of people took a tour of the site itself. Due to overwhelming demand, a second day of presentation of information has been added for Friday, Nov. 13. For more information, go to udcindustryday.com.
The project will take up 1 million-square-feet total at the site of the old Camp Williams airfield. The guidelines for contractors are strict and competitive since the cost of the project will total a billion dollars. Deadlines, data center experience on a tight schedule are part of the deal.
Carlen Capenos, with the Army Corps of Engineers, said, "This will be on a very aggressively scheduled project, so we can get it up and running as soon as possible."
The busloads of people touring the site know the payoff could be very lucrative for these jobs. One prime contractor will oversee the 5,000 to 10,000 people involved in various aspects of the construction. Since the National Security Agency is involved, security is also crucial in this so-called "spy center." Economically, it's one of the biggest opportunities for construction in years.
Jeff Schultz, with Mountain Valley Mechanical, said, "This may award us an opportunity for 20-30 years down the road, also be able to hire people who are jobless and looking for employment."
The 1 million-square-foot facility will include a 100,000-square-foot data center, where information will be collected in an effort to prevent attacks on the nation's cyber networks. It also will include 900,000 square feet of space for administrative offices and technical support systems, such as water treatment facilities and an electrical substation.
The facility is expected to require roughly 65 megawatts of electricity. That's about the same amount of power as every home in Salt Lake City combined.
Alan Rindlisbacher of Layton Construction said, "We see that it would become one of the largest power users because of the high demand of power for the services they provide."
Utah was chosen as the location for the facility over 38 other proposed sites around the nation.
Gov. Gary Herbert has said, "The benefit on the economic development side cannot be overstated. It's a $1.5 billion project."
Construction will begin after the first of the year, and the center should be open in two years.
------
Story compiled with contributions from Richard Piatt and Shara Park.
×
Related links
Related stories
Most recent Utah stories