Estimated read time: 2-3 minutes
This archived news story is available only for your personal, non-commercial use. Information in the story may be outdated or superseded by additional information. Reading or replaying the story in its archived form does not constitute a republication of the story.
Sam Penrod ReportingNot everyone is laughing about what turns out to be a radio station stunt, which is using the controversial topic of gay marriage to get attention.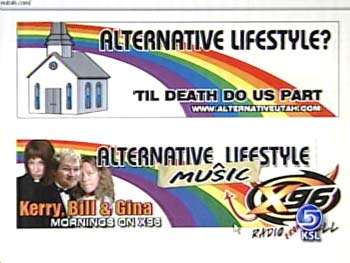 Billboard campaigns are meant to get attention. One billboard is in a prominent location, right at the 600 south off ramp. The question now--was promoting a message suggesting same sex marriage as part of a radio station stunt, going too far?
The new billboard, promoting radio station X96's morning show, replaces one that has stood out for several weeks. The new billboard promoting an alternative music radio station, takes off from the original billboard campaign of an alternative lifestyle, a church and a rainbow--a common symbol of the gay community.
Bill Allred, X96 Morning Show Host: "This is what we came up with for a campaign to cause some talk."
For several weeks the real meaning behind the billboard message was a mystery. One of the billboards, in Utah County, was vandalized twice-- an apparent attempt to send an anti-gay message.
Bill Allred: It played right into our hands."
However it's that negative response to the billboards that has Utah's gay right organizations believing the ad campaign made light of a sensitive and at times divisive message.
Melissa: "The bigger issue for us is that people would actually deface the billboards. And that has raised a really big red flag for us it was a message they didn't want to be hearing and they were assuming it was coming from the gay community."
Scott McCoy, Equality Utah: "The billboards risked trivializing what is a very important issue for the gay and lesbian community in Utah. We were also a little concerned that the billboards tended to polarize Utahns on this issue."
Despite taking some heat for the billboards, the so-called "Radio from Hell" DJ's remain unapologetic, and seem pleased with any kind of publicity.
Bill Allred: "I am at a loss at how this could really be this divisive. Bad taste, maybe; sure, I'll cop to that."
The radio station says the web site promoted on the billboard had numerous hits. These new billboards are expected to remain up for a few more weeks.
×
Most recent Utah stories