Estimated read time: 2-3 minutes
This archived news story is available only for your personal, non-commercial use. Information in the story may be outdated or superseded by additional information. Reading or replaying the story in its archived form does not constitute a republication of the story.
UTAH COUNTY -- Thousands endured long lines and inclement weather Tuesday to get a shot at getting the H1N1 flu vaccine. Flu clinics in Utah and Davis Counties were extremely popular destinations. In fact, as we've seen in Salt Lake County earlier this week, so many people showed up to get the vaccine both counties ran out.
In Provo, folks started showing up about 2:30 a.m., willing to endure the wet weather and hours of waiting, all so someone could stab a needle in their arm.
Resident Tyrel Grey said, "We had been up to the Salt Lake, to the ones up there twice and weren't able to make it in the door, so we got here as early as we can, so at least this time we can get the shot."
"We came very early and, not expecting to see the amount of people that they had, but it's actually been so well controlled," said resident Tom Wroe. The sheriff's department and the health department have just been marvelous to work with us."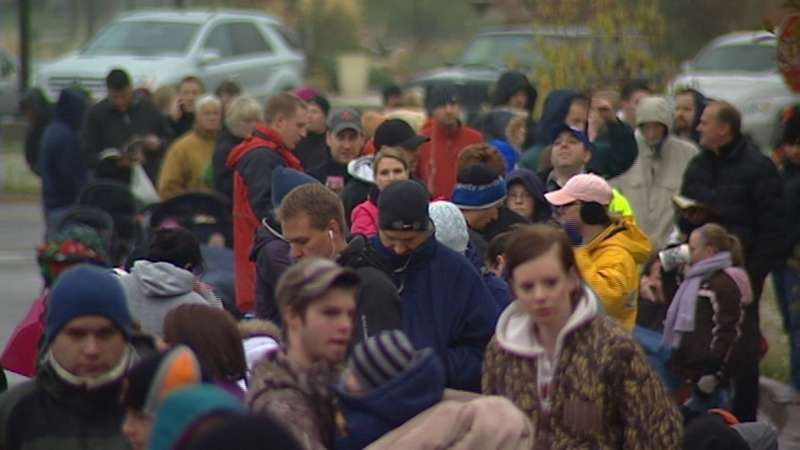 It's a simple equation. Demand for H1N1 flu vaccine is extremely high, but supply coming from manufacturers is low. In Provo, they administered nearly 4,000 vaccines and expected to run out.
At the Davis Conference Center in Layton it was the same story. Folks began showing up overnight to wait for the vaccine.
Clearfield resident Linda Cole said she waited in line "because I want to be safe, and I want my family to be safe."
In two hours, 2,000 people were vaccinated and the vaccine ran out. Both the Davis and Utah County clinics prioritized who should get the vaccine and gave out numbers to avoid having anyone wait without getting it.
The hope is a new batch of doses will arrive soon.
Lewis Garrett, director of the Davis County Health Department, said, "As soon as we get vaccine supplies, we're trying to make it available to the public, and we're being told by the CDC that these supplies should open up in a few weeks so that we won't have this sort of shortage."
Joseph Milner, director of the Utah County Health Department, said, "We just ask the public be patient. Eventually, we'll have the vaccine."
The Utah County Health Department hopes to get more vaccine and hold another clinic next Tuesday, Nov. 3, but suggest the public check their website or hot line 801-851-2222 for availability.
The UCHD is out of seasonal influenza vaccine, and does not have a time line of when more is expected.
It says the vaccine is very important for people in high-risk categories, but say most people are recovering well and it's not worth endangering young families in the cold for long hours.
Even if you haven't been able to get vaccinated, there are a number of preventative measures you can take, starting with frequent hand washing or the use of hand sanitizer.
E-mail: jdaley@ksl.com
×
Related links
Most recent Utah stories