Estimated read time: 2-3 minutes
This archived news story is available only for your personal, non-commercial use. Information in the story may be outdated or superseded by additional information. Reading or replaying the story in its archived form does not constitute a republication of the story.
Tonya Papanikolas reporting After Sunday's gang shooting in a crowded Liberty Park, Salt Lake Mayor Rocky Anderson calls for tougher penalties against minors caught with guns.
Tuesday morning, the mayor and members of the Salt Lake Police Department met at Liberty Park to talk about the issue.
First and foremost the mayor and police wanted to reassure people that the park is safe and they're trying to crack down on these young gang members.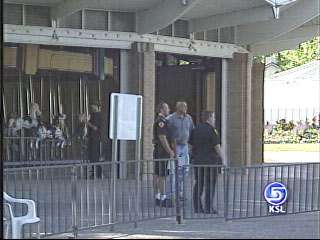 Asst. Chief Carroll Mays, Salt Lake Police Dept.: "in an effort to ensure there are no further problems in the park, or any park, we'll have additional gang detective and patrol officers assigned to patrol the parks on a regular basis. - with a particular emphasis on the weekends."
Rocky Anderson Mayor of Salt Lake City: "Let it be understood by every person in this community, this sort of thing will not be tolerated. Anybody engaging in conduct like this, they will be caught. They will be prosecuted to the full extent of the law."
Hundreds of people were in the park when two rival gangs started arguing and flashing gang signs on Sunday.
Then a 14-year-old gang member allegedly grabbed a gun from a 17-year-old friend and shot at a rival gang member.
The mayor said today the city wants to cut down on the number of minors who possess handguns.
Legally, no one under 18 is allowed to have them.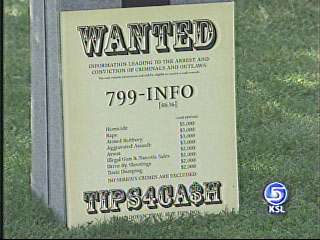 So he called on the state legislature to pass tougher penalties for minors with a gun.
And he encouraged anyone with information on these minors to turn them in... and make some money in the process.
The tips for cash program will pay $2,000 to anyone who contributes to the arrest of a minor illegally carrying a firearm.
Police say young gang members get these guns by either stealing them or buying them on the streets.
The city is hoping the tip money will encourage everyone from those selling the guns to gang members themselves to turn each other in and help keep the community safer.
That tips for cash number is 799-INFO.
×
Most recent Utah stories