Estimated read time: 2-3 minutes
This archived news story is available only for your personal, non-commercial use. Information in the story may be outdated or superseded by additional information. Reading or replaying the story in its archived form does not constitute a republication of the story.
RANDOLPH -- A Syracuse man got the shock of a lifetime during the first day of the deer hunt when he came face to face with a cougar.
David Garcia shot and killed the cat, and wildlife officials are confident he did so in self-defense.
Garcia was hunting at New Canyon, near Randolph, Saturday morning.
"I was standing next to a tree and heard a stick crack, looked over my shoulder and there was the cougar," he said.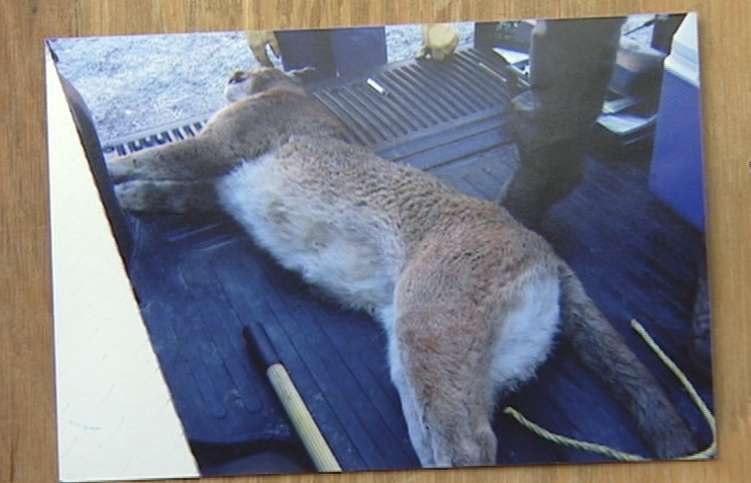 Wildlife officials say it was a female cougar, about 5 and a half feet long, weighing 130 pounds.

"The size of her just sent chills down my spine," Garcia said.

He said the cougar immediately went into a crouching position and began hissing, so he picked up his rifle.

"She was so close the scope wouldn't focus. It took a couple of seconds, and I was praying she wouldn't jump on me," Garcia said.

When it finally did focus, Garcia fired one shot that killed the cougar instantly. He set off to find a Division of Wildlife Resources official and ran into Lt. Scott Davis.

"I stopped him to see how the deer hunt was going, and he said he had just shot a cougar," Davis said.

**What to do if you encounter a cougar** 1. Make yourself appear as big as possible 2. Make noise, throw rocks 3. Maintain eye contact with the animal 4. If you're with small children, pick them up while continuing to maintain eye contact 5. Don't run, it provokes a cougar's instinct to attack

Davis and several other officials returned to the scene. He believes the cougar may have had pups nearby and was trying to defend them, but he said they would be old enough now to survive on their own. Davis estimated the cougar could have covered the nine yards to where Garcia had been standing in mere seconds.

"We found his spent cartridge on the ground. We could see where the cougar had been just prior to him shooting it. It was obviously self-defense," Davis said.

Garcia said the incident spooked him so badly, he doesn't think he'll hunt again for a while.

"After [the DWR officials] left with the cat, I had some breakfast and went back out," Garcia said. "I was so nervous I couldn't do it. I got out of there."

Garcia said he does hope to win the cougar's pelt when the DWR puts it up for auction, which is the practice in cases such as this.

E-mail: sdallof@ksl.com

×
Most recent Utah stories