Estimated read time: 3-4 minutes
This archived news story is available only for your personal, non-commercial use. Information in the story may be outdated or superseded by additional information. Reading or replaying the story in its archived form does not constitute a republication of the story.
By Sam PenrodAMERICAN FORK -- A teenage girl took the witness stand Tuesday against a former LDS seminary principal accused of having sex with her at the end of the last school year.
Michael Pratt, 37, faces 21 felonies relating to the alleged sexual relationship. He arrived in court Tuesday for his preliminary hearing, and the first witness was his alleged victim.
"It was pretty hard. I mean, I had a lot of support, and it was nice to be able to look at my family, but it was pretty hard facing him," the now 17-year-old girl told reporters following the hearing.
She spent three hours testifying against Pratt, who was the principal at the LDS seminary next to Lone Peak High School. The girl said what she thought was a friendship turned into a sexual relationship with Pratt during May and June of this year.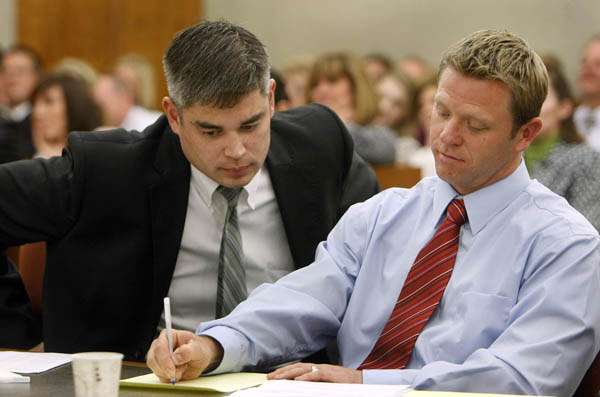 "It changed my life a lot. It's been really hard, but I think in the end it made me stronger and more aware and alert," she said.
On the witness stand, she described in detail how the relationship began and how it seemed to her, at the time, that she was in a romantic relationship.
The girl testified she first met Pratt in January, as she was transferring to a new seminary class, and the two began to talk frequently in his office.
She said Pratt summoned her out of class one day, and she then began going to his office instead of class each day. There, the two would talk about what she said was "life in general," calling him a good friend and someone she trusted.
The girl said the friendship continued until April 30, when she recorded, with her camera, Michael Pratt singing her a song in his office. She said he later told her he loved her.[CLICK HERE to read the lyrics of the song Pratt wrote]
She described having an anxiety attack over the weekend and going to the hospital, and that Pratt later visited her at her aunt's house that night. At one point, she said he called her on her cell phone and said he had a fantasy of the two together, which was sexually explicit.
A few days later, the relationship turned sexual in Vivian Park in Provo Canyon. There were five more similar encounters over the next month, some occurring during school time. The girl even testified that one of those encounters happened on the roof of the seminary building.
The girl testified Pratt would give her the keys to his car at the seminary parking lot. She would hide in the backseat, and he would get in a few minutes later. Then when they reached the nearby LDS temple, she could get in the front seat.
The girl also recorded when the encounters happened on her cell phone, referring to them such as "water fall" or "snuck out, bp," referring to Brother Pratt.
The relationship was reported to police in early July, and Pratt was arrested. Charges against him were enhanced because of his position of trust over the alleged victim.
"Where the person is a minor and the other person, the defendant, was in a position of special trust, and that was what much of the argument was about today," said Utah County prosecutor Julia Thomas.
Pratt's defense argues the charges are much more serious than what is warranted.
"Michael is of the opinion, we are of the opinion, that what happened, or allegedly happened, between those two people doesn't warrant five years to life in prison," said defense attorney Dusty Kawai.
As for the victim, she said she just wants to move on with her life.
"No matter what they say about me, it doesn't change the fact of what he did," she said.
Of the 21 charges originally filed against Pratt, the judge ordered he stand trial on 15 of them, including 14 first-degree felonies.
Pratt will be formally arraigned on the charges on Nov. 10, and then the judge will set a date for his trial. He faces up to life in prison if he is convicted.
E-mail: spenrod@ksl.com
×
Photos
Related stories
Most recent Utah stories