Estimated read time: 1-2 minutes
This archived news story is available only for your personal, non-commercial use. Information in the story may be outdated or superseded by additional information. Reading or replaying the story in its archived form does not constitute a republication of the story.
Sam Penrod Reporting A man drowned today while trying to load his boat at the marina on Strawberry Reservoir. The best efforts of boaters nearby couldn't save him.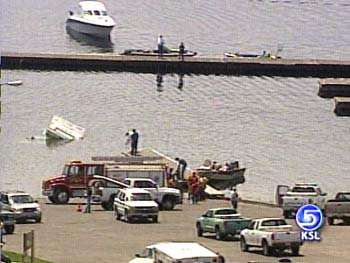 This is a very tragic story, a 69-year old man and his son had been fishing at Strawberry, they were loading up their boat when something went terribly wrong. The pickup truck had a camper and was pulling a boat trailer. The man's son had backed the truck and trailer down the boat ramp to the beginning of the water and then was moving the boat from the dock to the trailer.
That's when the victim got in the driver's seat and suddenly the truck went into reverse so far that the cab of the truck became submersed in the water.
Other boaters near the marina tried to get the victim out of the truck, eventually they did, but despite long efforts of CPR from citizens and later EMT's, the 69-year old man died on the shore.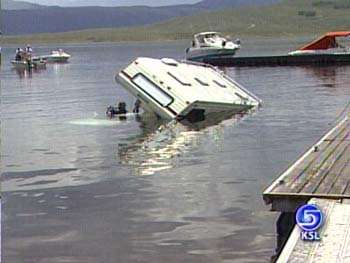 Johnny Wetsel: "He was in the vehicle and couldn't get out of the vehicle so we don't know whether he drowned or the shock of the water caused a heart attack, at this point we don't know."
It took a couple of hours to pull the truck, camper and boat ramp out of the water. Investigators plan to examine the truck to see if there was a mechanical problem and if the truck was in neutral or reverse or if the brakes may have failed.
And unfortunately, the man's dog was also in the truck and it died. Sadly, this is the third time someone has died this year in water accidents at Strawberry Reservoir.
×
Most recent Utah stories