Estimated read time: 1-2 minutes
This archived news story is available only for your personal, non-commercial use. Information in the story may be outdated or superseded by additional information. Reading or replaying the story in its archived form does not constitute a republication of the story.
DUCHESNE, Utah (AP) -- They found his jail togs, but a state prison inmate who escaped from the Duchesne County Jail when he was supposed to be fixing breakfast remained at large Monday.
Erik Hauber, 32, walked out of the jail around 9:15 a.m. Sunday.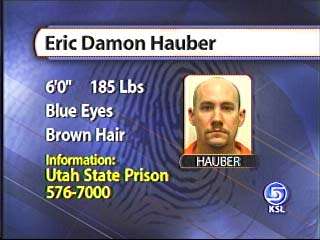 He left during a power failure, when security monitors were down. The generator also failed to kick in, something that has never happened at the jail before, Sheriff Merv Gustin said.
"It was done out of haste, after he breached the security. He really didn't have a game plan of how he wanted to go," said detective Mark Heath.
Hauber immediately got rid of his orange pants and T-shirt and took off wearing the gray sweat outfit he wore underneath.
The search outside the premises began in earnest about 10 a.m., said Heath. Six dog teams, a helicopter from the Department of Public Safety, sheriff's deputies and search and rescue teams all assisted in the search.
Searchers tracked footprints that went north for a few miles, then east for about the same distance, west and then in a southerly direction, said Heath.
"He's just kind of gone at random. He hasn't attempted to get into any residences. He's kept a low profile and kept out of the public eye."
The search was concentrated around the Duchesne River bottom near the East River Road. Conditions for search dogs were poor because the weather was dry and extremely hot on Sunday. The search continued into the night.
Hauber, who was sent to prison in 2001 for aggravated bank robbery, forcible sexual abuse and witness tampering, had been in the jail since December 2003.
(Copyright 2004 by The Associated Press. All Rights Reserved.)
×
Most recent Utah stories