Estimated read time: 2-3 minutes
This archived news story is available only for your personal, non-commercial use. Information in the story may be outdated or superseded by additional information. Reading or replaying the story in its archived form does not constitute a republication of the story.
MURRAY -- Christopher Bullock says he is lucky to be alive. And not only is he alive, he's already walking around his hospital room, talking about the mixed feelings he has for the piece of metal that went through his leg during a car accident earlier this week.
Nineteen-year-old Bullock survived a brush with death, and he has a fence pole to blame, and thank, for being in the shape he's in.
"This is the pole that impaled my leg and almost killed me, but saved my life at the same time," Bullock explained, while lifting the pole. "Had it not happened exactly the way it did, I wouldn't be here in the perfect shape that I am right now."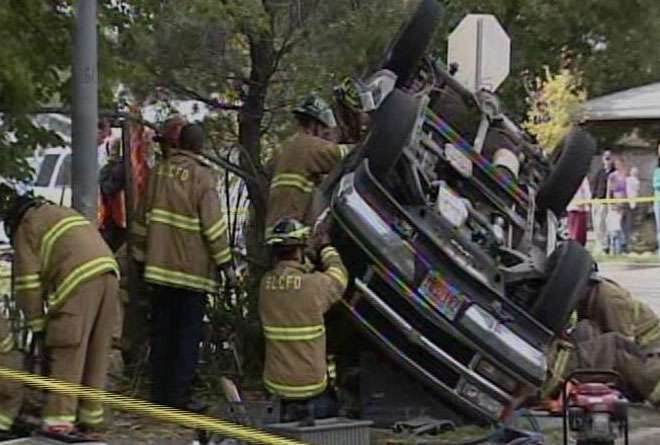 It was a serious accident that put Bullock in this situation. Police say the driver of a white car ran a stop sign at 1300 East and Zenith Avenue Monday. The crash flipped Bullock's SUV.
For a while, Bullock was trapped between the roof and the seat. A pole from a chain-link fence pierced the roof and went all the way through his right leg.
"He was trapped in there for about an hour, in very critical condition," said Salt Lake City police Sgt. Robin Snyder.
"IT was impossible for me to come to terms with the situation because I was in such shock," Bullock said. "I understood I was dying, but I couldn't convince myself that I was going to die."
Rescue workers say a tree kept his Tahoe from flipping any further, which could have meant worse injury. The wound itself is serious, but the pipe missed bones and tendons. It did pierce an artery, however, and Bullock went to the hospital with the pipe still in his leg.
Two days later, Bullock was already up and walking, well aware of what a big deal that is.
"It's brought my family really close together. It's really changed my perspective on live," Bullock said.
Bullock is recovering well, and he has a sense of humor. When KSL called his room earlier Wednesday night, he answered the phone by saying, "Pipe Boy's room ..."
E-mail: rpiatt@ksl.com
×
Related stories
Most recent Utah stories