Estimated read time: 2-3 minutes
This archived news story is available only for your personal, non-commercial use. Information in the story may be outdated or superseded by additional information. Reading or replaying the story in its archived form does not constitute a republication of the story.
COTTONWOOD HEIGHTS -- A 16-year-old Brighton High School student has been upgraded to serious condition after falling through the skylight of a school.
The accident happened when the teenager and his friend were on the roof of the old Cottonwood Heights Elementary school about 2:00 Tuesday afternoon. The building is currently not being used as a school but belongs to the Canyon's School District.
Police say the two decided to skip class and climbed on the roof at the back of the school. Aerial images from Chopper 5 show the top of the building and the skylights--one of them is covered with plywood.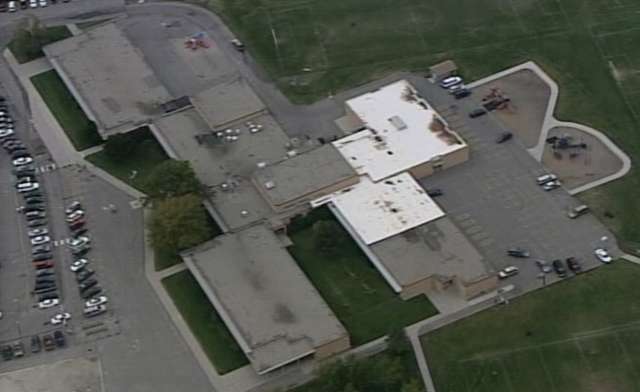 Police believe one of the boys stepped on the skylight. The Plexiglas was not enough to hold his weight, and he fell about 15 feet to the floor. He suffered severe head and chest injuries.
The friend called for help, but at first reported his friend was injured in a fight. Later, the building's alarm system alerted police.
"The friend of the victim tried to help him, or retrieve him," says Cottonwood Heights police Officer Beau Babka. "Apparently, that wasn't working. He could tell he was in really critical condition, so he tried to pull him out. So, we got a third, or another type of call."
The teen was taken to Intermountain Medical Center in extremely critical condition.
The names of the two 16-year-olds are not being released. No criminal charges are pending, according to police.
These kinds of accidents are rare, but about a year and a half ago another 16-year-old fell through a skylight at Bonneville Junior High school. That student died of his injuries; his fall was 40 feet through the roof of the gymnasium.
In both cases, the 16-year-olds managed to climb on the roof for a little adventure. It was clearly a bad choice then, and Tuesday.
E-mail: rpiatt@ksl.com
×
Related stories
Most recent Utah stories