Estimated read time: 2-3 minutes
This archived news story is available only for your personal, non-commercial use. Information in the story may be outdated or superseded by additional information. Reading or replaying the story in its archived form does not constitute a republication of the story.
Shelley Osterloh ReportingA Roy City Police officer is fighting cancer while he continues to fight crime. Other officers in his department are showing their support in a way that is visible to everyone they serve.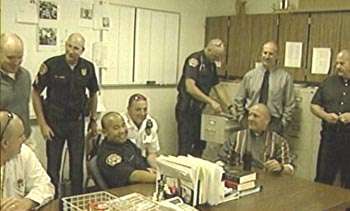 Damon Christensen is a patrol and swat team officer. About three months ago he found the lump on his cheek; it was cancer. His police force wasted no time in showing their support in a way this obvious to everyone.
Officer Damon Christensen lost all his hair from treatments of chemotherapy to treat Hodgkins Lymphoma. Suddenly all around him, others seemed to go bald too.
Det. Mark Thompson, Roy Police: "I met Damon right after I shaved it. I was walking out as he was walking in. And you could just see the smile on his face. It meant a lot to him and it means a lot to me that he feels that way."
Chief Greg Whinham, Roy Police Department: "In our department when something happens to one person in the department, it happens to all of us. We rally around and we try to support, and we just work together until we get through it."
So Labor Day weekend a group got together and shaved their heads. And it wasn't only the men -- two female police officers and a civilian went under the razor.
Nancy Cherry, Community Service Clerk: "It's a small way that we can say we are supporting him and want the best for him."
Capt. Tim Jensen, Roy Police Dept. "Nobody really wanted their head shaved, it's not a real attractive look. But I thought about it and Damon doesn't have a choice so its the least I can do to kind of cheer him up a bit."
Det. Sergeant Mike Elliot. Roy Police Dept. "Damon is like a hero to us. Here he has cancer and he is probably the most positive and upbeat guy we have."
Christensen says the support of friends has helped keep his spirits high, even when he didn't feel well.
Damon Christensen: "It makes something that is not fun to go through and something that might be difficult to go through, it makes it very easy to pull through and say, 'You know what, this will pass and tomorrow will be a better day.'"
And this 30-year old father of four believes his better days are not far away.
Damon Christensen: "Everybody's hair grows back, including mine, one day."
In all, there are about 60 people, including a handful of women who have shaved their heads. That's all of the Roy City Police, some firefighters and members of the Weber County Crime Scene Unit. As for officer Christensen, his prognosis is good; doctors told him this week the tumors in his chest are shrinking.
×