Estimated read time: 2-3 minutes
This archived news story is available only for your personal, non-commercial use. Information in the story may be outdated or superseded by additional information. Reading or replaying the story in its archived form does not constitute a republication of the story.
Amanda Butterfield reportingThe Donald himself describes her as a "killer" businesswoman, and she's in Salt Lake today.
We're talking about Carolyn Kepcher, The Exectuive Vice President of the Trump Organization, but most well known from "The Apprentice", as Donalds right hand woman in the boardroom.
Carolyn spoke today to the Salt Lake Chambers of Commerce. She says she was happy to come to Utah to talk about what she knows best.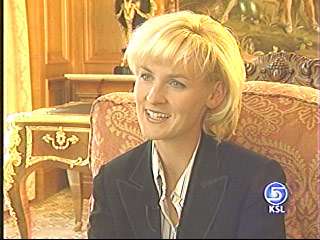 Carolyn Kepcher, 'The Apprentice': "They asked me to come and talk about one of my favorite topics, management by motivation, not fear, which I'm a big fan of, so this is an easy one for me."
Thanks to the popularity of 'The Apprentice', Carolyn's name has become well known by TV viewers who tune in every Thursday to see who Donald Trump is going to fire next.
On the show, Carolyn follows around the groups during their assignments and gives advice to Trump on who should stay and should go.
When she's not on NBC, she's overseeing construction and real estate sales worth hundreds of millions of dollars for the Trump Organization. And says she enjoys everyday of it, as well as working with Donald.
Carolyn Kepcher, 'The Apprentice': "He's a great person to work for. I've enjoyed working for him because he's never boring. The man is far from boring and I like that; it's challenging every day."
When asked what's the best business advice she has for people who want to be on the show, or simply move up in their careers, Carolyn said you have to read her book. It's called 'Carolyn 101', and it comes out in October. In it are tips for resumes, interviewing, and how to make more money.
Carolyn has been working with Trump for ten years; She started when she was only 26 and quickly moved up the ranks.
We asked her to give us her impression of Donald's famous phrase. Carolyn Kepcher: "I don't do it because it is all Donald. I don't do firing in board room so I don't pretend to imitate him. I leave that up to him. He does it best (laughs)."
You can watch Carolyn in action tonight on "The Apprentice" at 8:15 right on channel 5. It's a supersized show, lasting until 10:00, and we're told the board room scene is a must see.
×
Most recent Utah stories