Estimated read time: 1-2 minutes
This archived news story is available only for your personal, non-commercial use. Information in the story may be outdated or superseded by additional information. Reading or replaying the story in its archived form does not constitute a republication of the story.
Amanda Butterfield reportingIt came as a surprise to doctors and nurses at the University of Utah Medical Center when a 1,000 pound bull moose tried to walk through the emergency room doors early Friday morning.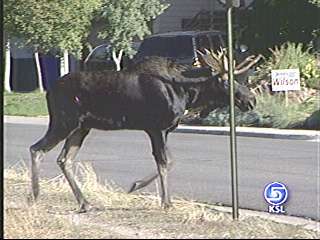 The moose has since been safely returned in the mountains, but only after a long morning of running around the Federal Heights area
The moose stopped in the Federal Heights area, exhausted after leading police and wildlife officials on a chase through neighborhoods.
The moose attracted quite a crowd once it stopped to rest. Neighbors lined up to watch the bull moose as officials were getting ready to tranquilize it.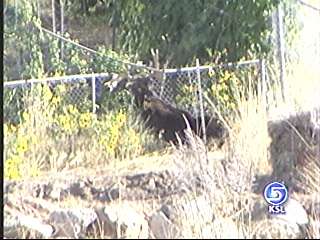 After being shot with a tranquilizer, the moose didn't fall down immediately. Instead it ran up the gully, crossed the street, and made its way into a neighbor's yard.
Less than three minutes after it was hit with the dart, the moose went down. It was then loaded on a tarp and carried to a trailer.
While the moose was still unconscious, its antlers were sawed off, and it was spray-painted blue and red as a warning to hunters.
Ray Loken, Utah Divison of Wildlife Resources: "In order to mobilize this animal, we have to shoot it with heavy duty narcotics, we don't want a hunter to shoot this moose, and take it home and try to eat it if it's been pumped full of drugs."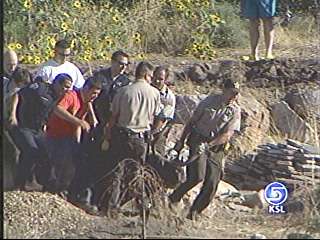 Once the moose was safely in the trailer, it was given an antidote and set free up a nearby canyon.
Moose and hunting season begins up in these mountains tomorrow for bulls and cows, so wildlife officials again want to warn hunters, don't shoot the moose with blue stripes.
×
Most recent Utah stories