Estimated read time: 2-3 minutes
This archived news story is available only for your personal, non-commercial use. Information in the story may be outdated or superseded by additional information. Reading or replaying the story in its archived form does not constitute a republication of the story.
Kimberly Houk ReportingMany students are struggling to carry backpacks that are too heavy. Textbooks are larger today and homework is more demanding. But could the heavy weight be damaging your student's health? Kimberly Houk went into schools today with a scale to find out how heavy backpacks are getting.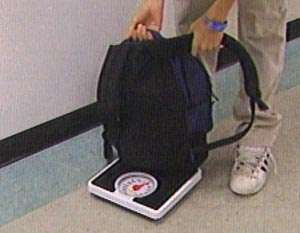 Most of the student's backpacks weighed between 12 and 20 pounds. That may not sound like too much until you consider that some of these kids only weigh 80 pounds. And that has the University of Utah's College of Health preaching a catchy slogan to combat this problem – 'Pack it light and wear it right.'
But packing it light may not be an option for some of these kids. Every homework assignment requires a different book.
The U's College of Health says backpacks should never weigh more than 15% of the student's weight. Kevin Gee only weighs 112 pounds. He should never carry anything heavier than 16 pounds on his back.
Kevin Gee: "I get some pain in my shoulders and my hips."
Nancy Johns works with the U's College of Health. She says students could alleviate some of their pain by adjusting how they wear their backpacks.
Nancy Johns: "The way they pack them makes a difference too; if you put the books closest to your back - make sure the backpack is cinched up and that you're wearing it at an appropriate height."
We found many students who wore their backpacks way too low, throwing them off center and causing stress on their necks and spines.
Nancy Johns: "Some students get pain in their back. Some students get a pinching in the neck."
Jesse Milne, Student: "After a while it starts to hurt right on your shoulders and on your back, and it goes right straight to your spine."
Along with teaching kids to tighten their straps, John's says teachers could also help lessen the load for students by lessening the number of books they need to take home to complete their homework. It's a move that could save some young backs.
Student: "When I walk home, I feel like I'm going to faint."
In 2001, more than 7,000 students nationwide went to the emergency room for injuries caused by lugging around a heavy backpack. Some schools are looking into giving students two textbooks for certain subjects -- one they can keep at home and one that stays at school -- to keep kids from having to carry them back and forth.
×