Estimated read time: 2-3 minutes
This archived news story is available only for your personal, non-commercial use. Information in the story may be outdated or superseded by additional information. Reading or replaying the story in its archived form does not constitute a republication of the story.
John Hollenhorst ReportingA major downtown business group made recommendations today that could have a far-reaching impact on our city and its cultural life. The Salt Lake Chamber set priorities for more than 50 construction projects seeking funding from the business community.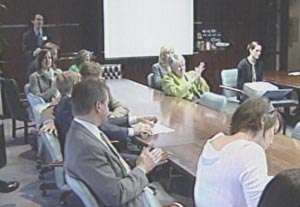 Think of each project as a card in a deck of cards. That's what the Chamber of Commerce has been doing with more than 50 proposed construction projects that are seeking nearly 2 billion dollars. The winning hand today: five projects the chamber says the business community should bet its money on right away.
It's a Heinz 57 of construction proposals -- 57 different projects in the arts, sports, museums, healthcare, all trying to tap the deep pockets of Utah's business community, studied for months by business leaders in the Salt Lake Chamber of Commerce.
Lane Beattie, CEO, S.L. Chamber of Commerce: "We simply cannot fund 1.8 billion dollars of capital projects. It is fiscally impossible. We want to make sure that we have the cream rise to the top."
The chamber chose five and recommended immediate financial support. First priority: completion of the Intermountain Medical Center in Murray. Number Two: an addition to the Huntsman Cancer Institute. Three: renovation of two buildings on Main Street for the proposed Museum of Utah Art and History. Fourth: a new, enlarged Utah Museum of Natural History. Fifth: a new home for Ballet West.
The winners hope business contributors will follow the Chamber's recommendation.
Sarah George, Utah Museum of Natural History: "Oh, it's very helpful, no question."
Some high-profile projects did not make the list: An expansion of Hogle Zoo, a major league soccer stadium, and the Living Planet Aquarium, whose founder claims it's not a setback.
Brent Andersen, Living Planet Aquarium: "I think their approach is to go to those ones that are close to being completed, go get them done and then move on to the next set."
The chamber is not recommending against any project. But they don't deny a non-recommendation could be the death knell for some.
Lane Beattie: "If they deserve a death knell, we're hoping that will be the case."
The Chamber also suggested a merger of the Planetarium, the Children's Museum and the Leonardo Center. The theory is they have overlapping purposes and would have a stronger hand to play if they worked together.
×