Estimated read time: 3-4 minutes
This archived news story is available only for your personal, non-commercial use. Information in the story may be outdated or superseded by additional information. Reading or replaying the story in its archived form does not constitute a republication of the story.
SALT LAKE CITY -- It's an old dream that's been around for centuries -- being able to see through walls. Now a team at the University of Utah has created a stir with an invention that does exactly that.
It can look through walls and monitor people moving around inside a house. The researchers' videos on YouTube have suddenly been noticed. In the last few days they've been written up on technology websites from MIT to the United Kingdom.
It's not really like Superman's X-ray vision. It's more like Batman technology.
When Batman battled terrorists holding hostages inside an office building in "The Dark Knight," he got some help from technology that revealed where everybody was in the building. At one point, a character looks at TV monitors and says to Batman, "Look up! See those bad guys on the floor above? They're waiting on the SWAT team coming up the elevator."
That's Hollywood.
University of Utah researchers are developing a smaller scale, more realistic system that actually could help cops in hostage situations.
"What it does allow you to do is see through walls," said professor Neal Patwari of the University of Utah Department of Electrical and Computer Engineering.
That technology could prove to be a lifesaver. "That could save lives," said Ph.D. student Joey Wilson. "It could save law enforcement lives."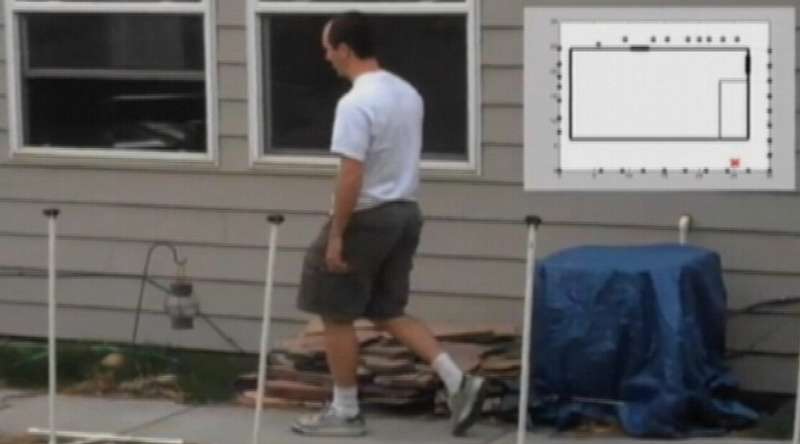 They have worked together to create the new system, along with bio-engineering professor Sarang Joshi. As a test, they surrounded a Salt Lake City house with 34 electronic transceivers. The tiny radios create a blanket of radio waves that penetrate the walls of the house.
When a person walks around, he partially blocks the radio waves. A computer uses the signal fluctuations to calculate his position. On an animated computer display, the person is represented by an "X" moving around in a floor plan of the house.
A key issue right now is the long set-up time. The location of each radio transceiver has to be carefully measured and recorded before the computer can calculate the position of intervening objects. That makes the system unworkable in an emergency situation, especially if officers' lives might be endangered as they set up the radios.
The researchers are trying to develop a system of "self-locating" transceivers that would automatically map their own positions quickly, relative to each other. "And that way," Wilson said, "a law enforcement agency could possibly take a bunch of these devices out of their pockets and just throw them at the house."
The imagery produced by the system is crude because the resolution is poor. It accurately depicts a person's location within only about three feet or so.
It would be hard to distinguish a person from a floor lamp unless he moves, but in a security system, for example, it could detect unauthorized intruders. "This system may be able to cover an entire floor plan and locate people," Wilson said.
Another possible use is to monitor senior citizens in their homes. "So this may provide either their children or their caretaker a way to keep track of them without invading their privacy," Wilson said.
The developers claim the system would also protect privacy, if that were a concern.
"It is not possible to see somebody's face," Patwari said. "It is not possible to personally identify somebody. So, in that sense, it's more private than if I had a video camera in your house."
The inventors will share any profits with the University of Utah. Wilson has already set up a startup company. He believes it will be far simpler and vastly cheaper than radar systems used for similar purposes by the military.
The research is funded by a grant from the National Science Foundation.
E-mail: hollenhorst@ksl.com
×
Related links
Most recent Utah stories