Estimated read time: 3-4 minutes
This archived news story is available only for your personal, non-commercial use. Information in the story may be outdated or superseded by additional information. Reading or replaying the story in its archived form does not constitute a republication of the story.
SALT LAKE CITY -- Leaders of The Church of Jesus Christ of Latter-day Saints opened their 179th Semiannual General Conference Saturday with the announcement of five new temples, including one in Utah.
President Thomas S. Monson announced new temples will be built in Brigham City, Utah; Concepcion, Chile; Fortaleza, Brazil; Fort Lauderdale, Fla.; and Sapporo, Japan.
President Monson said 83 percent of Church members throughout the world live within 200 miles of a temple. The faith has 130 temples with 16 announced or under construction. The construction of these five new temples will bring the total to 151 worldwide.
The locations selected for new temples reflect the growth of the church, which, according to statistics released in April, has grown to 13.8 million members.
"We desire that as many members as possible have an opportunity to attend the temple without having to travel inordinate distances," Monson said.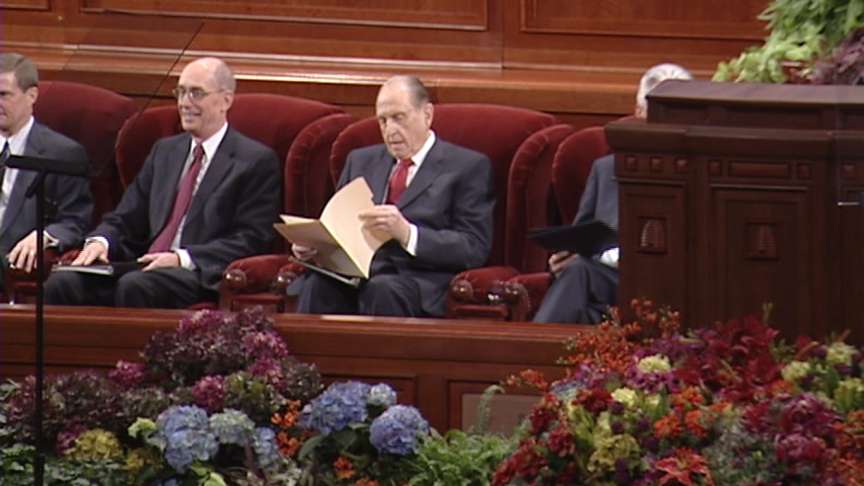 With a temple in Brigham City, Utah will have 14. The Fort Lauderdale temple will be Florida's second and the first since the Orlando temple opened in 1994. That temple is expected to serve U.S. Church members as well as those from the Bahamas, according to a Church news release.
The temple in Concepcion will be the second in Chile and the 15th in Latin America. In Brazil, where the Church has more than 1 million members, the Fortaleza temple will be the country's seventh.
Japan's Sapporo temple will be the third in that country and the sixth in Asia.
Church members voted to sustain their leaders. They also heard words of warning.
Elder Richard G. Scott of the Quorum of the Twelve Apostles said, "The onslaught of pornography in all of its vicious, corroding, destructive forms has caused grief, suffering, heartache and destroyed marriages. It is one of the most damning influences on earth."
Latter-day Saints also heard words of comfort.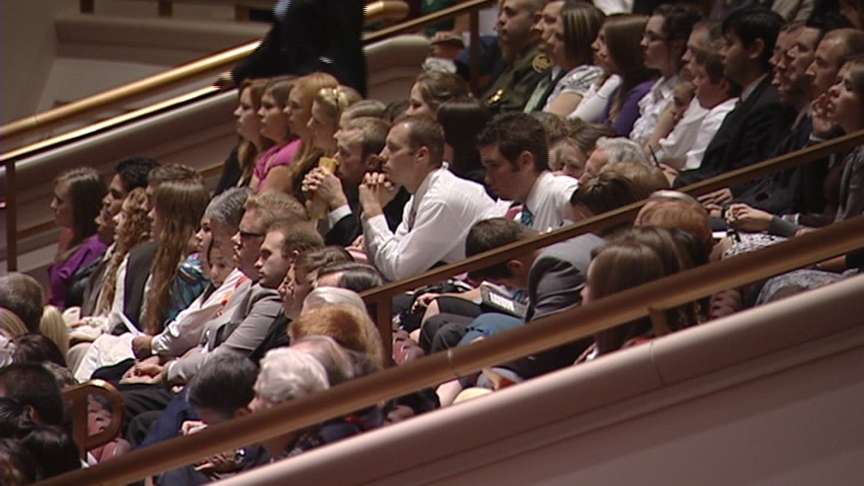 President Dieter F. Uchtdorf, Second Counselor in the Church's First Presidency said, "No matter our distress, no matter our sorrow, no matter our mistakes, our infinitely compassionate Heavenly Father desires that we draw near to him so that he can draw near to us."
President Uchtdorf went on to say that as the Church continues to grow, Latter-day Saints can help redefine negative stereotypes about the Church by exemplifying Christian values.
"Because love is the great commandment, it ought to be the center of all and everything we do in our own family, in our church callings and in our livelihood," he said. "Love is the power that initiates friendship, tolerance, civility and respect. ... Love should be our walk and our talk."
At Saturday evening's priesthood session, President Monson told the men about watching the news and realizing that so much of crime, abuse, domestic and gang violence begins with anger.
"We experience displeasure or irritation or antagonism and, if we so choose, we lose our temper and become angry with others," he said. "Ironically, those others are often members of our own families -- the people we really love the most."
Many traveled long distances to be here with their Church leaders.
Suzie Richards came all the way from England. "Just knowing that you're in the same room as the prophet and the apostles and everyone's all there together and you too -- it's really great," she said.
Others didn't have to travel as far, but were grateful to be a part of the experience.
"It's an amazing feeling being here, being so close to the prophet and apostles and hearing the words they have to say," said Leah Galloway of Cedar Hills.
The two-day General Conference this weekend draws an international attendance to a 20,000-seat conference center on the Church's downtown Salt Lake City campus for five two-hour sessions. Millions more watch the proceedings -- translated this year into 92 languages - via broadcasts over the Internet, by satellite and closed circuit television.
Story compiled with contributions from Carole Mikita and The Associated Press.
×
Photos
Related links
Most recent Utah stories