Estimated read time: 2-3 minutes
This archived news story is available only for your personal, non-commercial use. Information in the story may be outdated or superseded by additional information. Reading or replaying the story in its archived form does not constitute a republication of the story.
Tonya Papanikolas ReportingSome residents in Holladay are fighting the possibility of a youth treatment facility in their neighborhood. This morning the city manager heard arguments for and against giving the group home a business license.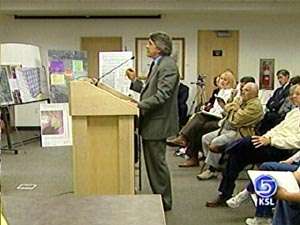 Sunnybrook Way is a quiet street near 39th South in Holladay. But this home is in the middle of a large controversy. The group Futures Through Choices wants to turn it into a group home for five young men who have mental disabilities and criminal records.
The residents say it would put their whole neighborhood at risk. This morning the Holladay Council Chambers were packed to overflowing with concerned citizens.
Kent Jackson, Neighbor and Father: "My concern is certainly first for the safety of my own family and for the neighbors that surround us."
Many of those neighbors are elderly residents or families with young children, and they don't want sex offenders living down the street.
Melani Jackson, 13-year-old: "I want to know that I am safe when I go outside to play with my brothers."
The residents worry that because the home borders a canal, the young men could try to escape, or worse.
Erin Pickrell, Neighbor & Mother: "My concern is if they are a sexual offender, to take my children down into the canal."
Aaron Murdock, Concerned Citizens for Safety in Holladay: "We don't think that kind of home should be in any neighborhood, frankly."
The CEO of the company pushing for the home says it's possible a sex offender could be treated there, but not likely.
Jerry Jeffries, Futures Through Choices: "We have never had a kid referred to us that was an untreated sexual offender for treatment. It's not happened in the five years we've operated a home up in Ogden."
Jeffries says it's unfair to place all the group homes in Salt Lake on the west side of town. He says this location is ideal because it's private, close to services for the teens, and in a positive and safe area. But the neighbors want to keep it that way.
Kent Jackson: "My grandmother, Edda Lou Cow, was strangled to death in 1988 by a man who was living in a group home."
Melani Jackson: "We have wonderful neighbors and everyone's so kind and everything. And I just don't want that to change."
Jeffries and a lawyer representing the neighbors both went before the City Manager today to present their cases. That manager has 30 days to make a decision now on whether he will recommend a business license for the home.
×
Most recent Utah stories