Estimated read time: 2-3 minutes
This archived news story is available only for your personal, non-commercial use. Information in the story may be outdated or superseded by additional information. Reading or replaying the story in its archived form does not constitute a republication of the story.
*Kim Johnson Reporting*For more information on the Louse Buster, call 230-3170
They're not styling her hair, they're trying out a new way to deal with an old, and surprisingly growing problem -- head lice.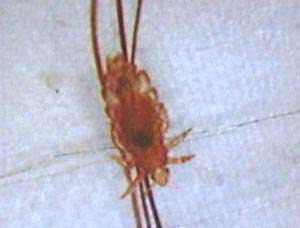 Just the mention of it is enough to make you want to scratch your scalp. And head lice are becoming resistant to chemical shampoos. But scientists at the University of Utah have another remedy ready for anyone who needs it.
No one likes to talk about it, but head lice is fairly common. Researchers say one in four elementary aged school children will get it. But a biology professor and his students at the University of Utah have a remedy, they call it the "louse buster."
To the naked eye, an adult louse is about the size of a sesame seed. A magnified view is enough to make your skin crawl. But these biology students are so confident in their invention they're going to plant a live louse in the head of their professor's 11-year old daughter.
Mimi Clayton: "It hasn't actually happened to me before. My brother has done it. But I'm just hoping they get it right."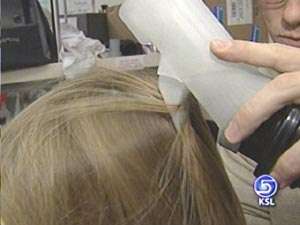 With the louse securely in Mimi's scalp, they bring out the louse buster. The combination of heat and dry air is enough to suck the life out the louse, which finally lets go of the hair strand, and dies.
Dale Clayton Ph.D., Biology Professor: "Tiny insects and organisms in general are very susceptible to dessication, or drying out. We think that's how it's working. We haven't tested at a very fine scale to see what's killing them, we're sort of taking the top down approach. This method kills them and that's good enough for us."
Dr. Clayton says he serendipitously stumbled onto the idea when he was studying birds and their ecto-parasites.
Dr. Dale Clayton: "When I moved to the University of Utah eight years ago, we discovered we couldn't keep the parasites alive that we studied on animals, because of the dry conditions, it turns out."
So Clayton and his students started tinkering with the idea that subjecting lice to dry conditions just might be "lousy" enough to kill them.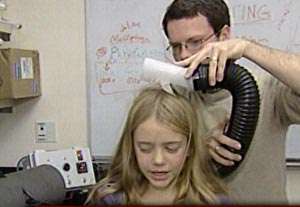 Dr. Dale Clayton: "You need a combination of heat and a considerable airflow. And a mechanical way of positioning the hair so the air can get to the right place, and that is to where the lice are, and their eggs."
Don't try a hair drier. Dr. Clayton says it won't have the right volume of hot air to work. He's filed a patent on the invention, and is now looking for partners to take the louse buster to market. Until then Clayton's students will make house alls for anyone with head lice.
For more information on the Louse Buster, call 230-3170
×
Most recent Utah stories