Estimated read time: 2-3 minutes
This archived news story is available only for your personal, non-commercial use. Information in the story may be outdated or superseded by additional information. Reading or replaying the story in its archived form does not constitute a republication of the story.
Alex Cabrero Reporting We've seen them on "The Jetsons", "Chitty- Chitty- Bang-Bang", and "Back to the Future," but could we soon see flying cars in the sky over Utah? One local man thinks so.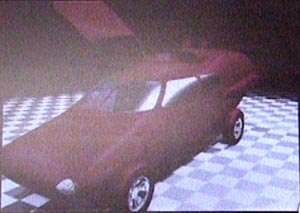 Lines, luggage, and tickets. Been to an airport lately? If not, it's okay, not much has changed. jBut it's still faster than driving. But what if you could do both at the same time and never leave your car?
Stephen Cook is working on an idea to get you where you're going faster, by driving and flying your car.
Stephen Cook, "Cook Flying Cars" LLC: "My plan is to have it ready within two years and be in full production in seven years."
And he's used to the kind of look you have right now.
Stephen Cook: "Some people look at me and wonder, is this guy for real?"
He's for real, and with a few co-workers, has plans to start making the cars here in Salt Lake City.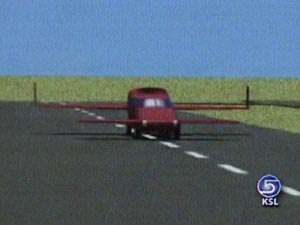 Stephen Cook: "He designed the wings to fold out from underneath the vehicle, pivot out like this and pins lock in place."
And flying it is a breeze.
Stephen Cook: With an auto-pilot system in place and GPS, you just program where you want to go and it's all virtual highways."
There are advantages to staying off the interstates: no construction, no traffic, no icy roads. But there are those who say staying on the ground, is the only place to be. But like the car and airplane a hundred years ago, it's just a matter of making one work.
Stephen Cook: "This is the passion in my life, and I know it's going to happen. It's just going to take some time."
Cook says he's working on a prototype for the flying car, but needs some funding to get it off the ground.
×
Most recent Utah stories