Estimated read time: 2-3 minutes
This archived news story is available only for your personal, non-commercial use. Information in the story may be outdated or superseded by additional information. Reading or replaying the story in its archived form does not constitute a republication of the story.
Keith McCord ReportingAn update tonight on a Canadian couple who was injured when their motor home exploded in downtown Salt Lake. The couple was traveling through Utah with friends in late September when their vacation abruptly ended.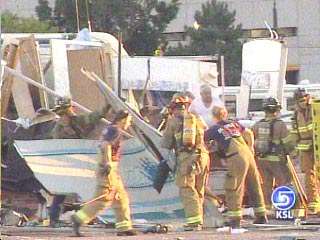 On their way to the Grand Canyon from British Columbia, Peter and Mary Makowichuk parked their RV in a downtown parking lot to spend the night. On the morning of September 22, Mary turned on the stove, and the vehicle exploded. Mary was buried in the rubble with severe burns over 25% of her body.
Mary Makowichuk: "It burned my hair, my face, my neck, my arms and my legs."
Her husband Peter was literally blown out of bed and ended up pinned upright against a wall. Both were shaken up and burned but alive!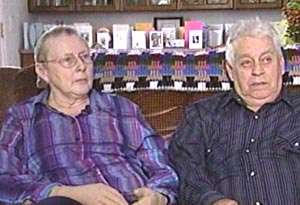 Mary Makowichuk: "We are really very lucky. The guardian angels were working overtime for us that day, yes."
Mary spent three days in the burn unit at University Hospital, then was flown to another burn unit in Vancouver, where she spent 11 days. Then to another hospital, before finally going home to the small town of Barriere, British Columbia.
Mary Makowichuk: "We're doing pretty good. Yes. We have to wear pressure bandages and that makes the skin grow smooth so there's no scar tissue."
They may have to wear those bandages, which are rather uncomfortable, for as long as two years.
The Makowichuk's home is filled with dozens of get-well cards; friends and neighbors brought food and called on the phone. But Peter and Mary remember the people of Salt Lake City that morning-- all those who came running to help, the prayers, donations and the concern. And they want to say thanks!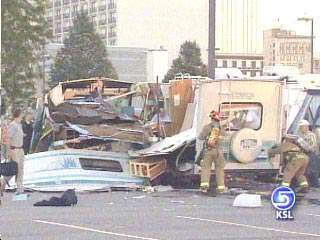 Mary Makowichuk: "We've learned how much people care about what's happened to you. That's what we've learned, that they're very kind anywhere."
Pete and Mary Makowichuk do plan to return to Salt Lake City, after all, they still would like to get to the Grand Canyon,
The blown up RV went to the junkyard here in Salt Lake, and luckily insurance will help them buy a new one.
×