Estimated read time: 2-3 minutes
This archived news story is available only for your personal, non-commercial use. Information in the story may be outdated or superseded by additional information. Reading or replaying the story in its archived form does not constitute a republication of the story.
John Daley ReportingAfter losing a key vote over a new Wal-Mart in Sandy, opponents say they'll continue the fight.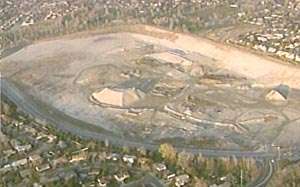 Tuesday night the city council approved a zoning change, which paves the way for a Lowes and super-sized Wal-Mart on the site of a gravel pit. Sandy residents trying to prevent big box retailers from going in at the site formed a group called "Save Our Communities." Now the group says it's evaluating its options, trying to figure out what else they can do to try to stop the project.
Lopsided is the best word to describe the fight over a huge proposed development at the gravel pit in the heart of Sandy. At a series of public meetings a lopsided number opposed the plan, which would allow a 200,000 square foot Super Wal-Mart.
But when it came time to vote--the city council decision was also lopsided--5 to 2 in favor of the zoning change.
Dave Nicholson, Sandy Resident: "This is how it's been. Every meeting it's been a much bigger percentage of people that have been against this proposal. If there are a lot of people who are for it, they haven't come to these meetings."
The group "Save Our Communities" is considering their options, perhaps a lawsuit or a petition drive for a ballot referendum. The mayor, who supports the project and appointed the planning commission, which unanimously approved it, thinks a referendum could be a long shot.
Tom Dolan, Sandy Mayor: "I guess if people want to do that, that's their right to do. They'd have to point out that this would be a major tax increase. I really don't think when that word gets out people would really support something like that."
Up for re-election next fall are two of seven city councilors and the Mayor--who hasn't yet announced his plans. Citizens who rallied for an alternative to big box retailers promise to seek alternative leadership in City Hall.
Rachael Stone, Sandy Resident: "I guarantee you this will be an issue; form 'Save Our Communities' it'll be an issue for sure."
Tom Dolan, Sandy Mayor: "Could this be an issue during that campaign? Oh, I'm sure it would be. Hey listen I serve at the pleasure of the public. If the citizens don't want me to serve, they'll tell me."
The group says it hopes to decide what they'll do next, at the start of next week.
×