Estimated read time: 2-3 minutes
This archived news story is available only for your personal, non-commercial use. Information in the story may be outdated or superseded by additional information. Reading or replaying the story in its archived form does not constitute a republication of the story.
Tonya Papanikolas ReportingThe Soldiers of Aryan Culture are known to be violent. But just how much do we really know about their organization? Yesterday some of the alleged gang members put up a fight in federal court after a judge denied them visiting rights in prison.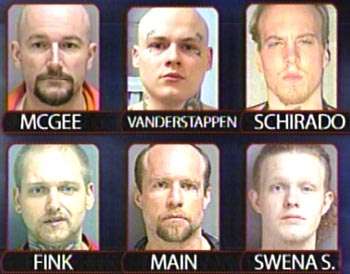 Yesterday at the federal courthouse, 12 alleged members were brought before a judge. But the organization actually has more than 150 members across the state. Most of them have nicknames, like "Snuff," "Tinman" or "Bandit." A lot of the men are in their mid to upper 20s and they expand their power through intimidation, fear and violence.
They're called "Soldiers" of Aryan Culture, and like the military, members have ranks. According to court papers, Tracy Swena created the organization and is a general. So is John McGee and Steve Swena, which means they can authorize criminal action.
Lt. Andy Burton, Metro Gang Unit Project Director: "Many of the white supremacist organizations, including SAC, are very organized with bylaws, constitution, regulations and rules."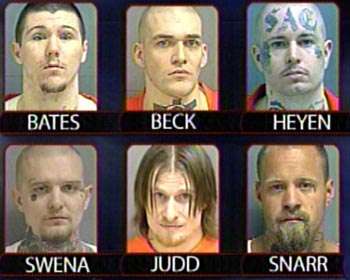 Members are required to read white supremacist literature and are encouraged to attack anyone who threatens them or violates their rules or ideology. Their code of conduct says they must attack all known sex offenders and snitches. They can't cooperate with law enforcement or engage in "race mixing" unless their leaders approve it.
Lt. Andy Burton: "They're very committed to the precepts that are set up in their organization, and that includes defending their way of life, defending their views."
Violence is a big part of the movement. In 2000, high-ranking SAC officer Scott Biswell was shot and killed by police at a Provo motel. Officers say he'd assaulted two women and a baby and aspired to kill a cop.
Earlier that same year Ogden officers said they foiled a SAC plan to deliver pipe bombs to Jewish athletes at the Winter Olympics.
New members have to complete a six to 12-month period of criminal missions. Often these orders include "hits" like stabbings on other inmates. Once the mission is complete and the member is approved, they receive a "SAC patch", a tattoo of an iron cross wrapped by a swastika. A pair of tipped lightning bolt tattoos can also be awarded when a violent act is carried out.
The more criminal activity the members engage in, the more likely they'll advance to a higher rank. SAC officers outside of prison stay in touch with those inside correctional facilities and communicate orders over the phone. If members of SAC ever denounce the group or walk away, they can be killed.
×
Most recent Utah stories