Estimated read time: 2-3 minutes
This archived news story is available only for your personal, non-commercial use. Information in the story may be outdated or superseded by additional information. Reading or replaying the story in its archived form does not constitute a republication of the story.
SALT LAKE CITY -- A veteran prosecutor with the Salt Lake County District Attorney's Office will be back to work on cases, after retaliation from above kept him out of court.
The County Career Service Council ruled that District Attorney Lohra Miller retaliated against Kent Morgan for filing a grievance. Now, per county policy, Miller could face disciplinary actions by the county mayor.
The Career Service Council issued a 10-page decision on Friday. In it, they make clear that Kent Morgan is to return to his old job, prosecuting felony cases, instead of pushing papers.
"I'm pleased with the outcome. I think they made the right decision," said Morgan.
Morgan was fired last year because the district attorney thought he was leaking information to Steven Maese, owner of the Doll House escort service.
In April, Morgan got his job back when the council determined there was insufficient evidence to support Miller's claims. What Morgan didn't know, however, was that he'd return to work, only to labor as a law clerk.
"Basically was supposed to hide in the district attorney's office doing menial research work," said Morgan.
Miller testified that her office struggled to find an assignment that she was comfortable giving Morgan. She also clearly stated she did not trust him.
Morgan said, "All of those matters were resolved and should not have been taken into account after I returned to work."
Miller, however, told the council that despite the lack of evidence, she still believed Morgan disclosed confidential material and she couldn't let him represent their office.
The council didn't see her side, stating that: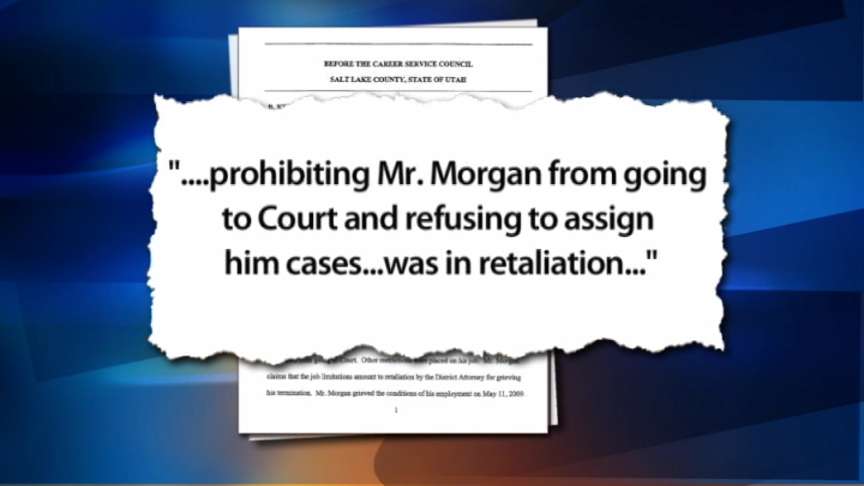 "...prohibiting Mr. Morgan from going to court and refusing to assign him cases... was in retaliation."The council went on to state:
"There is thus no evidentiary basis for the D.A.'s lack of trust."
Now, Morgan will return to work, aware that the transition might be difficult.
"The rancor and animosity, it would be nice if those were gone, but I'm a realistic person and that's why we have elections," he said.
The Salt Lake County District Attorney's Office responded late Sunday evening to the decision by the Career Service Council. It says that after reviewing the decision, it: "...does not find a rational legal basis for the findings particularly in light of its earlier decision in April of this year."
It goes on to say that: "It is the position of the District Attorney's Office that the decision of the Career Service Council on September 24th is inconsistent with its earlier decision and lacks a legal rational basis. For these reasons, the District Attorney's Office will request a review of the decision by the District Court."
To read the full response, click here.
As for possible disciplinary action against her, the county mayor didn't return KSL's calls.
E-mail: ngonzales@ksl.com
×
Related links
Related stories
Most recent Utah stories