Estimated read time: 2-3 minutes
This archived news story is available only for your personal, non-commercial use. Information in the story may be outdated or superseded by additional information. Reading or replaying the story in its archived form does not constitute a republication of the story.
CLINTON -- A Clinton family believes someone intentionally beat their puppy to death. They opened their front door Wednesday night and found the puppy on their front porch.
Clinton Police say they don't have any suspects, but the family believes it could've been someone in the neighborhood. They're heartbroken by the loss of Bandit and want answers.
"It's never easy to say goodbye, especially the way that he died," said Bandit's owner, Cindy Forester.
To Cindy and her family, the little black and white dog was much more than a pet.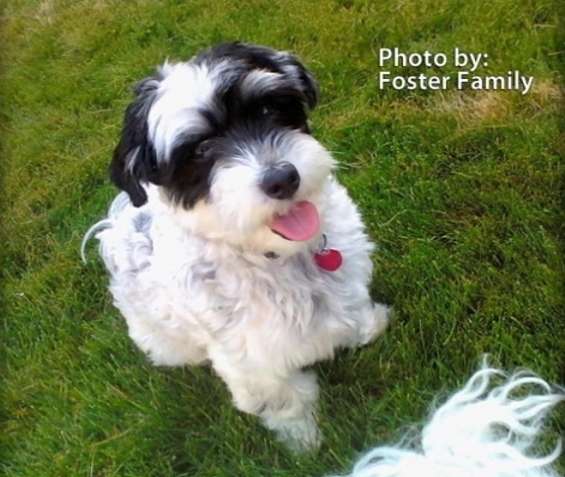 "We had him since he was a puppy," Cindy's daughter said.
"He was such a part of our family it was like losing one of our kids," Cindy explained.
She said at around 8:00 Wednesday night, the 1-and-a-half-year-old Maltese-poodle mix was outside playing in the backyard with her other dog, Levi. But when the family went to let the dogs inside, only Levi was there. They found Bandit lying on the front porch, not moving.
"He was just sitting there, and that's not like him at all because he's very energetic," Cindy said.
Bandit had severe head trauma and internal bleeding, as well as other cuts and scrapes. They rushed him to a vet, but his injuries were too severe.
"They went ahead and put him down," Cindy said.
The vet told them his injuries were consistent with either someone beating him or being hit by a car. But the Fosters have a fenced yard with a heavy gate.
Cindy said the kids are always very careful to close it tightly behind them. She said they found a tree branch lodged in the fence someone could have used as a ladder to hop over, and Bandit was injured so badly, she doesn't think he could have walked back to the porch.
"I would like to know who it was that did it and why, and I would like them to have to pay for it," Cindy said.
The Fosters called police, who said whether a driver hit Bandit or someone beat him, they hope someone comes forward.
"If it was animal cruelty, then there could be some severe punishment following that," said Clinton police Sgt. Mike Wilson.
Levi, the Fosters said, just hasn't been the same without Bandit. All they have left to remember Bandit is his collar, pictures and a lot of questions.
If you have any information about Bandit's death, you're asked to call the Clinton Police Department at 801-451-4150.
E-mail: jstagg@ksl.com
×
Most recent Utah stories