Estimated read time: 2-3 minutes
This archived news story is available only for your personal, non-commercial use. Information in the story may be outdated or superseded by additional information. Reading or replaying the story in its archived form does not constitute a republication of the story.
Richard Piatt Reporting'Day one' of the Huntsman administration was celebrated in grand style at Abravanel Hall today. The Governor's Inauguration combined ceremony and an outline for Utah's future from Jon Huntsman Junior.
Among Huntsman's first words to the state were themes of optimism, change, and bridging divides in a ceremony that itself was a change from tradition, held at Abravanel Hall and not at the Capitol.
Music from the Mormon Tabernacle Choir filled Abravanel Hall, the inaugural place of choice since the Capitol is under construction. And, following the music theme, Huntsman drew a parallel between his new job and the conductor of an orchestra.
Gov. Jon Huntsman, Jr.: "As governor, I will work to insure as Master Abravenel did that there is balance among the sections."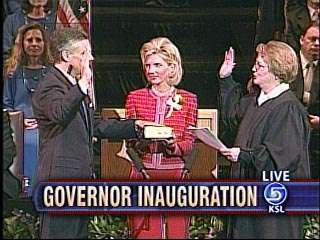 It was a nice way of saying, expect a push for change in state Government.
The crowd of dignitaries included former Governors, foreign ambassadors, state officials, and supporters who ate up Governor Huntsman's address, standing to applaud. Huntsman renewed his pledge to burn up political capitol by taking on issues like tax reform and education funding that may be unpopular.
Gov. Jon Huntsman, Jr. "The nay sayers will say it can't be done, 'we can't afford it, 'the legislature won't work with you', or 'Washington won't pay attention.' To them I say, stand aside and let those who believe lead out."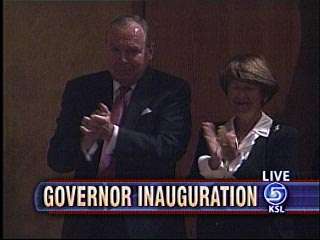 Governor Huntsman is now the 'man of the hour'. But not just Republicans are looking forward to working with him. He's already getting praise from both sides of the aisle among Legislators. Democrats say it's refreshing to be 'included'.
Sen. Patrice Arent, (D) Holladay: "I think we already have been and I think that's important because he's going to need our support for some of the innovative ideas he has."
Sen. Pete Knudson/(R) Brigham City: "Jon is very refreshing. I'm excited to work with him, I really am."
Governor Huntsman officially moves in to his office tomorrow morning. Tomorrow night there is a 'statehood day celebration'. It is free to the public and will include food music and fireworks. It will be between 5-7 at the E Center.
×
Most recent Utah stories