Estimated read time: 2-3 minutes
This archived news story is available only for your personal, non-commercial use. Information in the story may be outdated or superseded by additional information. Reading or replaying the story in its archived form does not constitute a republication of the story.
John Daley ReportingIt's crunch time for Sandy citizens looking to stop a pair of big box retailers from building at the site of the city's last large parcel of open space. They're trying to put the issue on the ballot.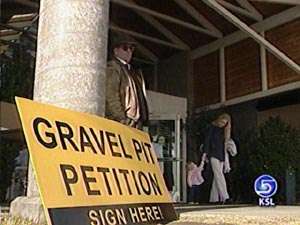 There's a grassroots petition drive happening. Some people are out holding signs; others are at the Sandy Library gathering signatures. But the deadline is Friday and the group is still short of their goal.
The way Richard Bickel sees it he's fighting for democracy. Bickel, a military veteran and former machinist, now a retiree, has lived in Sandy 22 years. He's gathering signatures to try to reverse a zoning decision that allows big box retailers--including Wal-mart--to build at the gravel pit.
Richard Bickel: "I personally don't care whether Wal-Mart goes in or not. I resent being dictated to by our councilor, the gravel pit, the zoning committee and our mayor."
What really rankles Bickel was a series of public meetings at which most citizens spoke out against the zone change, only to watch city officials overwhelmingly approve it. Bickel has had no trouble getting fellow citizens to sign.
Erica Oliphant, Sandy Resident: "I think it's ridiculous that people in higher positions think they can just push us around and not really listen to what we have to say."
Danielle Dimond, Sandy Resident: "I don't really want to see another big Wal-Mart or something."
Still, some don't support the effort.
Mike Avery, Sandy Resident: "I'm a Wal-Mart shopper. I'll probably be a customer for life. I'm treated well there and I don't have anything against them."
City officials are researching the issue and gearing up for a potential lawsuit, which the developer the Boyer Company, may bring, contending the issue is not subject to a ballet referendum.
Ryan Mecham, Sandy City Spokesman: "The whole issue centers around what is subject to referendum and what is not subject to referendum."
The group needs 9500 signatures by Friday and is not there yet. But Bickel--who has gathered the most so far--thinks not only will they reach that number, but that voters will be fired up in November.
Richard Bickel: "Who I blame is our political people in office. They are the ones who are not listening to the will of the people, and they will pay come election time."
If the group gets enough signatures and the effort clears whatever legal challenge may come--both big 'ifs'--then the issue would be on the ballot in November.
×
Most recent Utah stories