Estimated read time: 4-5 minutes
This archived news story is available only for your personal, non-commercial use. Information in the story may be outdated or superseded by additional information. Reading or replaying the story in its archived form does not constitute a republication of the story.
(KSL News / AP) -- Southwestern Utah is under a state of emergency as residents and emergency crews scramble to head off damage from floodwaters. Local cities and Washington County jointly declared an emergency this afternoon to get assistance from the state
A new winter storm brought heavy rain to low-lying areas and snow to the mountains of Utah Monday. Rain forced the closure of several small bridges in southern areas, and an avalanche warning was posted for all of the state's mountain ranges.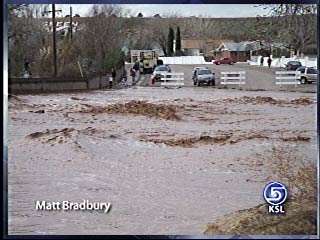 In Saint George, the Virgin River is close to spilling it's banks. Some bridges have already been damaged there and in Santa Clara. Enterprise has lost one bridge on the main roadway from the flooding.
Officials are now reporting that one man is presumed dead as a result of the flooding.
The man was in the Red Cliff Recreation area near Quail Creek Reservoir. He and a female passenger were in an SUV that became stuck in a torrent. The man got out of the SUV, stood on top of the hood, and was swept away. No body has been found. The female passenger was rescued safely.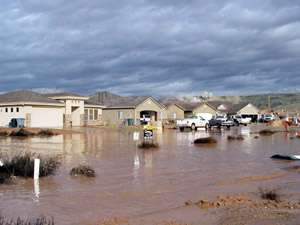 The Washington County Sheriff's Department said 50 to 100 people in the St. George area have either been evacuated or seen their backyards submerged in water.
Gov. John Huntsman, who plans to be in the area for an economic development summit, will visit areas affected by flooding on Wednesday.
St. George, Santa Clara, New Harmony, and Enterprise have all been soaked over the past several nights.
The flooding started yesterday evening around 4 o'clock, and there's been no break for emergency crews, or several homeowners.
In St. George there have been four major road closures due to as much as two feet of water rushing over the asphalt.
Crews are busy barricading roads through out Washington County as the water rises. Despite warnings, officials say some drivers are still trying to cross.
In Santa Clara, Swiss Village has been evacuated , and Sunset Boulevard closed, nearly 15-thousand people had to leave their homes.
In Washington City, several homes have been flooded and evacuated. Residents who live in the cities hardest hit say they've never seen anything like it.
Lori Marsh, New Harmony Resident: "The water is running over the roads, causing people not to get in their residences, the water is actually making taverns in the road so you can't even pass."
Barbara, St. George Resident: "I've lived here for 20 years and I haven't seen anything like it before, we get snow, and rain, but this is our 12th day of some sort of precipitation."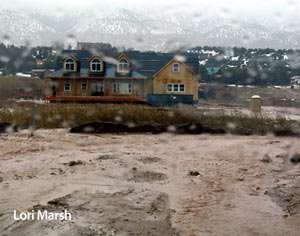 For those whose homes are in danger in St. George, the Reuse Center, East of 1-15 are giving out free sandbags.
Emergency crews say because there is little they can do to prevent this flooding -- today's plan is to react to problems that arise.
In response to the flooding, state officials partially activated the emergency operations center on Capitol Hill and monitored the situation through conference call with Washington County emergency operations staff, Department of Public Safety spokesman Derek Jensen said.
The county's most pressing need was sandbags, Jensen said. Washington County had about 14,000 on hand, but used those up quickly, he said.
"We'll be sending about 50,000, and 20,000 of those are on their way tonight," Jensen said.
On Tuesday, a state assessment team will be in St. George to begin to quantify the extent of the damage, and determine if the state might be eligible for federal disaster assistance. Officials from the Federal Emergency Management Agency have already been advised of the flooding, but Utah would have to suffer more than $2 million in damages to infrastructure before being eligible for federal funds, Jensen said.
The state had also provided Washington County with a helicopter for use in damage assessment and was working to fix some glitches with its solar-powered emergency communications system. Other state agencies, including the health department and the National Guard are expected to join emergency response efforts on Tuesday, Jensen added.
In far northern Arizona, at least one house and a golf course were deluged Sunday. No one was injured, but residents from at least three other homes in the area left as a precaution.
The National Weather Service said periods of heavy snow were expected through Tuesday afternoon across the eastern Utah ranges, with accumulations ranging from 2 to 5 feet in some areas. Up to 6 feet is possible along southwest facing slopes in southwest Colorado and southeast Utah, the NWS said.
The weather service cautioned travelers to be careful and said major highways at elevations above 8,000 feet would be affected, with visibility nearing zero in some spots. Conditions are being made worse by gusting winds, with some approaching 60 mph.
(The Associated Press contributed to this story)
×
Most recent Utah stories