Estimated read time: 2-3 minutes
This archived news story is available only for your personal, non-commercial use. Information in the story may be outdated or superseded by additional information. Reading or replaying the story in its archived form does not constitute a republication of the story.
SALT LAKE CITY (AP) -- Straight from the master, Ken Jennings, the all-time "Jeopardy!" champion, here's something you might want to know if you're ever on the show.
Commercial breaks are tough.
"It is an awkward time to start a conversation," Jennings said during a speech at Westminster College Wednesday night.
After finally losing on his 75th "Jeopardy!" appearance and after winning $2.5 million Jennings was free to answer questions about it, including:
Contestants are not allowed to utter the word "trivia" on the show. It's a "knowledge" show.
"There's a black tile behind every podium that you stand on that raises and lowers (so everybody's the same height). Every "Jeopardy!" podium has a trap door behind it in case you say 'trivia."'
Contestants are not allowed to talk to Alex Trebek unless the cameras are rolling, though Jennings still developed a sort of relationship with him.
"At the end of the last show he misted up a bit. He seemed genuinely moved that I was leaving."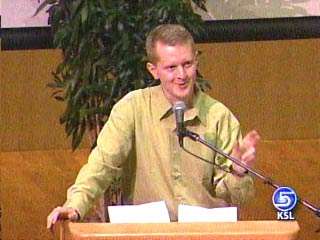 The contestant who gets to answer the question isn't necessarily the one who hits his buzzer first. The buzzers are disabled until Trebek finishes the question, and if you hit it too early you're disabled for something like one-quarter of a second "enough to matter."
"There's a very narrow sweet spot you just have to find."
Shows are taped back-to-back two days a week. During those days, "as soon as you and Alex change your ties you're right back out there."
With his Westminster speech, Jennings kicked off a speaking tour at college campuses. With that, and writing a book, he's currently on leave from his job as a software engineer.
Jennings wasn't allowed to tell anyone about the success of his "Jeopardy!" appearances during taping, but that became a problem as the weeks he flew to Los Angeles started to pile up and co-workers noticed his frequent absences.
"My boss did know, and she's making these wild excuses: 'Ken's sick, Ken's painting his basement."'
Besides answering questions and participating in a mock "Jeopardy!" game at Westminster with a professor and honors student (which Jennings won, of course), he gave a speech on, appropriately, trivia.
"I think we're overspecialized," he said. "Today the copy editor and the electrical engineer might as well be talking different languages. Trivia is a way to make connections with people."
(Copyright 2005 by The Associated Press. All Rights Reserved.)
×
Most recent Utah stories