Estimated read time: 2-3 minutes
This archived news story is available only for your personal, non-commercial use. Information in the story may be outdated or superseded by additional information. Reading or replaying the story in its archived form does not constitute a republication of the story.
PROVO -- A well-known and popular astrophysicist, Dr. Neil deGrasse Tyson, lectured at BYU Tuesday. Dr. Tyson is known for his books about space and astronomy. He not only has an ability to make a complicated topic interesting, but he also makes it easy to understand. He enjoyed rockstar-like status from students at BYU.
Dr. Tyson said he got interested in astronomy as a 9-year-old boy visiting a planetarium in his hometown of New York City.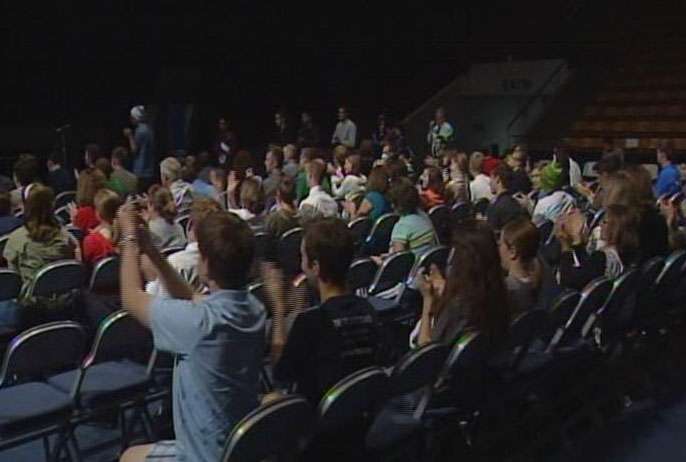 He said, "They dimmed the lights, the stars came out, it freaked me out. I thought it was a hoax. The sky doesn't have this many stars, I know, I've seen them from the Bronx. There are four stars visible from the Bronx."

It's became a lifelong interest that has given him a reputation as one of the best-known astrophysicists today.

His unique take on topics, such as killer asteroids and the number of stars that exist in the universe, is something that catches the ear of people who aren't even into science.

He said, "We went from thinking Earth was in the middle of the known universe, to recognizing that we are the smallest of the tiniest part of this huge expanse of space and time."

As the debate about space exploration and manned space missions continues in the political circles, Dr. Tyson believes looking to stars will ultimately benefit everyone on Earth.

![](http://media.bonnint.net/slc/1449/144940/14494098.jpg)

Dr. Neil deGrasse Tyson, born and raised in New York City, is an astrophysicist and director of the Hayden Planetarium at the American Museum of Natural History. Tyson, 50, is the host of the popular public television science feature "NOVA Science Now" and also hosted NOVA's critically acclaimed four-part miniseries "Origins." He has a bachelor's degree in physics from Harvard University and a doctorate in astrophysics from Columbia University. Tyson has worked as an astrophysicist and research scientist at Princeton University. He has written several books and has twice served on aerospace commissions for President George W. Bush.

He explained, "I think people need to recognize that as important as the events and affairs here on Earth, that Earth is embedded with a much larger universe, and insight and wisdom that can be gleaned from the rest of the universe can matter to us down here on Earth."

He went on to say, "When I think of exploration, I think of exploration on all the frontiers of science, and it's the cross-pollination of all those ideas and discoveries that enriches life as we know it."

Dr. Tyson has also become a familiar face in recent years as the host of Science Now, a Nova program on PBS.

E-mail: spenrod@ksl.com

×
Most recent Utah stories