Estimated read time: 2-3 minutes
This archived news story is available only for your personal, non-commercial use. Information in the story may be outdated or superseded by additional information. Reading or replaying the story in its archived form does not constitute a republication of the story.
Keith McCord reportingA Davis County man sent a letter today to Salt Lake Mayor Rocky Anderson. He could have mailed it, or sent the message by e-mail.
Instead, he hand-carried the letter from his home in Kaysville, to the City County Building.
At 5 o'clock this morning, Paul Burnham walked out the front door of his Kaysville home, for a brisk morning walk. Not his normal exercise routine. Paul was headed for Salt Lake City, with a message for the mayor.
Paul Burnham: "I'm covering about a mile every 15 minutes."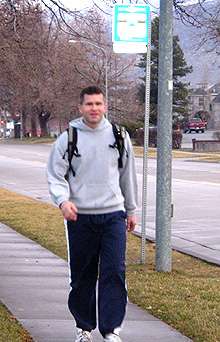 Paul has a few thoughts about transportation issues along the Wasatch Front, and put them down in a letter.
He's an avid supporter of mass transit, and says city leaders in both Salt Lake and Davis Counties should study all forms.
Paul Burnham: "I think we really need to look closer at how we can use those in the future.. The commuter rail, but right now the buses and carpooling. But I think we do need an alternate route to i-15..."
Paul decided to take this "walk", after recent comments by Salt Lake Mayor Rocky Anderson.
Anderson ruffled some feathers during a speech, saying commuters clog roads and increase pollution. He mentioned Davis County residents specifically, and their support of the Legacy Highway.
Paul Burnham: "So I'm just trying to do something a little lighter… do something humorous, hopefully, and be able to lighten the feeling a little bit."
Down city sidewalks, along frontage roads, Up hills and down hills, Paul walked for 6 and a half hours.
He only slowing down for a few minutes when co-workers brought him a quick snack!
Finally, 21.75-miles later, with sore feet, Burnham arrived at the Mayor office, and was met by Anderson's Chief of Staff, Sam Guavara. He said he'd deliver the letter to the mayor when he returns to town.
After he outlined various transportation issues, Paul wrapped up his letter by inviting the mayor to his house in Kaysville, but only if he walks!"
We're waiting on word from Mayor Anderson to see if he takes up the offer.
×
Most recent Utah stories