Estimated read time: 3-4 minutes

This archived news story is available only for your personal, non-commercial use. Information in the story may be outdated or superseded by additional information. Reading or replaying the story in its archived form does not constitute a republication of the story.

SALT LAKE CITY -- A new collaboration has sprung up to address one of Utah's most pressing needs: hunger. The state's main food distribution center, the Utah Food Bank, is getting some much needed assistance over the airwaves.

This is Hunger Action Month, and many of us received in our morning paper a food donation bag. Meantime, the traditional food drive is joining forces with the public radio pledge drive in hopes of meeting a growing need.

**Did you know…**

• 1 in 10 Utahns, 1 in 8 Utah children lives in poverty • 1 in 7 Utah children under 18 is at risk of hunger • 1 in 6 young Utah children under 5 is at risk of hunger • 345,700+ Utahns are at risk of missing or skipping a meal due to a lack of resources (4th highest rate of food insecurity in US) • 134,000+ Utahns receive food stamps, not even half of those eligible • 63,000+ Utahns eat dinner at a soup kitchen every month • Almost 40% of all Utah school-age children receive free or reduced lunch (nearly 300,000) - *[Utah Food Bank](https://www.utahfoodbank.org/home/index.php?option=com_content&view=frontpage&Itemid=1)*

At KUER 90.1 FM, the fall fund drive is when the public radio station strongly encourages listeners to pitch in to pay for programming. But this year, there's a new twist. For a $60 donation to KUER, the station gives 10 meals to the Utah Food Bank.

General Manager of KUER John Greene said, "We're very conscious that this is an extraordinary need. I'm conscious of don't want to glum us on to another program for sympathy, but everyone recognizes this is a time of extraordinary need."

The Food Bank's new warehouse on 910 W. 3150 South, at 86,000-square feet, is twice the size of the old one, driven by rising demand.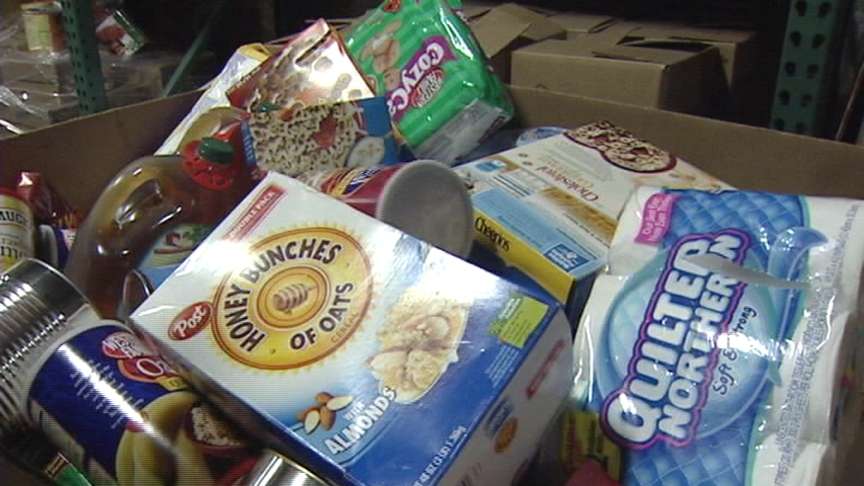 Janeal Ford, development director for the Utah Food Bank explained, "We've seen quite a spike in the need in the last year, obviously due to the economic situation we're in."

Demand for food is up 40 percent this year. Over the past decade, the amount of food given out has more than doubled to 23 million pounds. With the new warehouse, the agency will be able to distribute 40 million pounds of food.

Donations have gone up this year, but nowhere near that 40 percent rise in demand.

**Most needed food items**

• Peanut Butter • Tuna Fish • Canned Fruit (low sugar) • Canned Vegetables • Canned Stews/Chili • Boxed Meals • Macaroni & Cheese/Pasta - *[Utah Food Bank](https://www.utahfoodbank.org/home/index.php?option=com_content&view=frontpage&Itemid=1)*

"We have seen a slight increase in donations both on the food and financial side, but there still is a gap that exists between what the need is and what we're able to do," Ford said. Many public radio listeners are happy to help.

Greene said, "People that donate online have an opportunity to write us a note, lots of people are saying thank you for doing this. This is great."

Tomorrow, from 9 a.m. to 3 p.m. is the first-ever Hunger Action Month food drive, a single-day event. Donations can be dropped off at the Food Bank, your local food pantry or any Smith's location.

E-mail: jdaley@ksl.com

×
Related links
Most recent Utah stories