Estimated read time: 2-3 minutes
This archived news story is available only for your personal, non-commercial use. Information in the story may be outdated or superseded by additional information. Reading or replaying the story in its archived form does not constitute a republication of the story.
Jed Boal Reporting Mission accomplished! After over a year in Iraq some Utah soldiers got more than expected when they touched down on home soil. Emotions erupted.
Tressa Kummer, Soldier's Mom: "I'm proud of him, he's my hero. But it's hard, he's been through some tough stuff."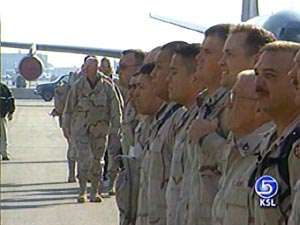 The dangers of war were real for the 116th Engineer Company. The deployment was tough for the soldiers and for their wives and children, mothers and fathers anxious about their safety.
We caught up with the 116th Engineers the night they left Ft. Carson, Colorado bound for Iraq. They felt prepared that night and well-trained. But it's hard to train for the emotional intensity of serving in a war zone far from home.
The 116th Engineers of Spanish Fork are builders. They built bridges, schools, and rebuilt the main supply route from Southern Iraq to Baghdad. Now they want to build their futures with their families. In Iraq the company came under attack more than 200 times.
Cpt. Talon Greeff, 116th Engineer Company: "IED attacks, mortar attacks, rocket attacks, small arms fire. It got real hot."
But it's cool now in Utah and time for a final salute for the commander, and the soldiers are dismissed.
David Buell saw his eight month old baby Brooklyn very briefly this summer.
Billie Buell, Soldier's Wife: "We wanted him back so badly, I couldn't wait another hour."
Now the wait is over.
Spc. David Buell, 116th Engineer Company: "We had good times, we had bad times. I just want to build a new life with my wife and family here."
The hugs and kisses bring comfort and relief.
Spc. Bridger Kummer, 116th Engineer Company: "I'm glad I made it through it to get back to these guys. They mean so much to me. My family is the greatest."
Specialist Bridger Kummer appreciates them more than ever before.
Spc. Bridger Kummer, 116th Engineer Company: "Sometimes you suck it up and push on through because it's hard. Some days it's hard without family, some days you're scared to death. Now I'm here, this is awesome."
His mom says it's the sacrifice of the entire family.
Tressa Kummer, Soldier's Mom: "Thank goodness we have kids who are willing to put their lives on the line for our lives and our freedoms."
Cpt. Talon Greeff, 116th Engineer Company: "I appreciate the United States a lot more and the things that we have that other people don't have."
The unit commander says they were glad to be in Iraq during the elections so they could see the results of their hard work.
×
Most recent Utah stories