Estimated read time: 2-3 minutes
This archived news story is available only for your personal, non-commercial use. Information in the story may be outdated or superseded by additional information. Reading or replaying the story in its archived form does not constitute a republication of the story.
Richard Piatt ReportingToday, one member of the Utah Legislature said, "The price of freedom will always be blood." The comments came as the House and Senate honored Utahns who have died in the line of duty recently.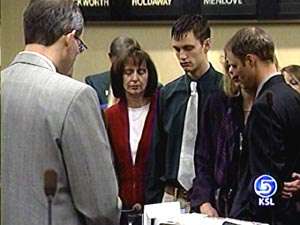 The families of Utah soldiers left behind stood in front of emotional Legislature. There a simple proclamation brought tears of both gratitude and sadness in the House of Representatives. A ceremony brings Utah lawmakers to their feet, honoring those whose loved ones have made the ultimate sacrifice.
The list of names, personal stories, hits the elected officials hard.
Rep. Craig Buttars, (R) Lewiston: "To your family members who have sacrificed all, there are few who are called upon to sacrifice all, and we appreciate what they have done."
One of the most recent Utah casualties is Corporal Matthew Smith. Like many others, his parents always knew he would be a soldier. The honor at the Capitol is something his parents appreciate.
Colleen Parkin, Mother of Fallen Marine: "To see them reading the names and passing the Kleenex around in the senate, it was heartfelt."
Gary Smith, Father of Fallen Marine: "It was an honor to be here and to see they felt the same way we did."
Likewise, Brett and Zellene Allred say they'll treasure this copy of the proclamation from the Legislature. Both wear a picture of their son Michael, killed by a suicide bomber in September.
Brett Allred, Father of Fallen Marine: "There are days when you feel a longing and emptiness, and you realize they're not there anymore."
Zellene Allred, Mother of Fallen Marine: "You feel like your not carrying the full responsibility or the full grief, that others are grieving with you, and it has made a difference."
Most fallen Utah soldiers will also be part of a display of portraits in Washington DC. It's called 'Faces of the Fallen'--honoring soldiers who have died in the Iraq war. It will be on display in Arlington Cemetery later in March.
×
Most recent Utah stories