This archived news story is available only for your personal, non-commercial use. Information in the story may be outdated or superseded by additional information. Reading or replaying the story in its archived form does not constitute a republication of the story.
SALT LAKE CITY -- The widow and the daughter of a prominent doctor who committed suicide following a law enforcement artifact raid in southeastern Utah went before a judge today for sentencing. He handed down a lighter sentence than prosecutors recommended.
Jeanne Redd was sentenced to three years probation, and her daughter Jericca was sentenced to two years probation. The two admitted in July that they owned and sold valuable seed jars, pottery and jewelry.
As part of the plea, they agreed to give up their collection of artifacts, which took two moving trucks to haul away. According to court documents Redd turned over 812 artifacts.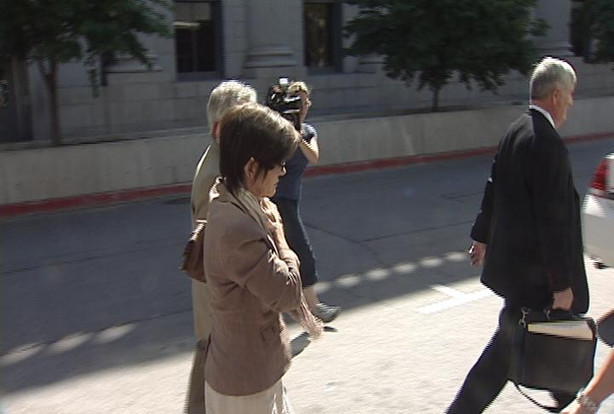 The two have also been banned from Indian and public lands.
In Jeannie's case, guidelines called for up to two years in prison, but the judge took other factors into account, including her husband's suicide.
The Redds were swept up in a broad federal investigation into illegal artifact collecting, buying and selling. Of two dozen people arrested, they're the first to be sentenced because they cooperated and pleaded guilty.
That's one factor the judge took into account. Judge Clark Waddoups didn't directly mention the suicide of Jeanne Redd's husband after the raid, but he alluded to the various emotional consequences the Redds had to face.
The judge also said that artifact collecting has been "tolerated... if not culturally condoned" in southeastern Utah for years, although he said that doesn't justify a serious crime.
Prosecutors said they won't second-guess the sentence of probation.
Assistant U.S. attorney Richard McKelvie, said, "The prosecutions that we are currently pursuing indicate in no uncertain terms that that conduct is not condoned and will not be condoned by the United States, regardless of whether it's condoned by a local community."
There are other serious consequences for the Redds, including fines, surrender of computers and other equipment, a ban on firearms and banishment from public and tribal land. But, they're not going to prison.
Neither would comment after the sentencing.
Jeanne Redd and her husband, Dr. James Redd were arrested in a June following a raid that netted 24 people in one the country's biggest cases of artifact looting. Dr. Redd committed suicide the next day.
Another suspect also committed suicide, and the rest have pleaded not guilty.
E-mail: hollenhorst@ksl.com
×
Related Links
Related Stories