Estimated read time: 2-3 minutes
This archived news story is available only for your personal, non-commercial use. Information in the story may be outdated or superseded by additional information. Reading or replaying the story in its archived form does not constitute a republication of the story.
SALT LAKE COUNTY -- A dangerous attempt to flee from police failed, and now two men are behind bars. The men jumped from their moving vehicle Wednesday morning only to be found hiding under a nearby freeway overpass.
The chase started around 2 a.m. in the parking lot of the Studio 6 motel at 975 East Winchester in Murray. At the time, detectives didn't know why the men were fleeing. Later, after they were arrested, they learned that the men had just been on a crime spree.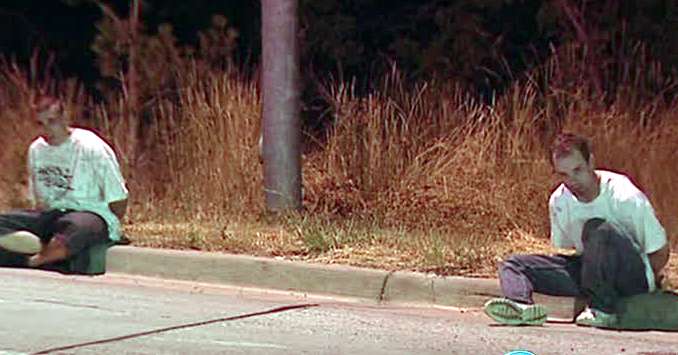 As 29-year-old Davin Ricketson and 20-year-old Damion Williams sat on a curb handcuffed and bleeding, police searched though their car and found bags full of stolen items.
Det. Nate Clark, with the Metro Gang Unit, described what they found: "Electronic components, DVD players, possibly stereos, a safe was in there, and there was climbing equipment."
Shortly before the arrest, a Metro Gang Unit detective spotted Ricketson and Williams at the Studio 6 motel in Murray. They were in the parking lot acting suspicious, and their vehicles looked like they had been in an accident.
"He went to investigate, thought it was a little suspicious. And one of the drivers jumped into the second vehicle and took off at a high rate of speed from the parking lot," Clark said.
The detective chased the vehicle onto southbound I-215, but when the driver, Ricketson, exited at 6200 South the vehicle was going too fast and crashed in to the center median.
"The passenger immediately got out and started running northbound. The driver stayed with the car for a couple moments and started to run with the vehicle still in motion," Clark said.
The vehicle continued to roll another 100 feet before crashing into a ditch. That's farther than Ricketson or Williams got; they were found hiding nearby under the freeway overpass.
Authorities arrested the two without further incident. The men then admitted they were responsible for committing at least five vehicle break-ins.
"They admitted to doing vehicle burglaries sometime between midnight and the time of the pursuit throughout Midvlae, Sandy and Cottonwood Heights area," Clark said.
Both Williams and Ricketson are facing a number of charges, including five counts of vehicle burglary. Metro Gang detectives also tell us that the vehicle left in this parking lot this morning by Williams was stolen. He will face a second-degree felony charge for his role with that.
------
Story compiled with information from Shara Park and Andrew Adams.
×
Photos
Most recent Utah stories