Estimated read time: 2-3 minutes
This archived news story is available only for your personal, non-commercial use. Information in the story may be outdated or superseded by additional information. Reading or replaying the story in its archived form does not constitute a republication of the story.
Debbie Dujanovic reportingEric Holmes/Principal, Vae View Elementary School: "More about respect for themselves and for others and being more responsible for themselves, others and the school"
Recess is cancelled at one Utah School. A popular move - maybe not. But the principal thinks it's a smart one.
Take the children out of the picture, and the playground looks a little lonely. At Vae View Elementary School in Layton that's how it is for now.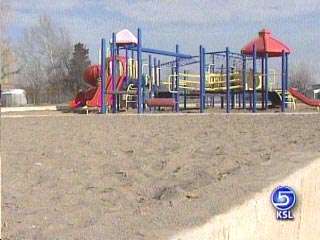 Eric Holmes/Principal, Vae View Elementary School: "I asked a class today, okay kids who hates me raise your hand, about four kids raised their hands I said that's okay you guys I understand why."
Principal Eric Holmes has cancelled recess until the middle next week. Teachers are using the time to remind children to show respect and be kind. On Friday, Mrs. Knowlton's first graders relax to songs about accepting others.
Principal Holmes didn't cancel recess to punish the kids. He explains in a letter to parents: "our bullying problem is probably no worse than many other schools, but why do we have to have a problem at all."
Eric Holmes Principal, Vae View Elementary School, "There's more to this than just losing recess - that's been the toughest message to get across, we're trying to do a lot more than take away recess - we're trying to teach you some different ways of treating people and each other."
Jody Hutchins, 4th Grade Teacher, "We're not doing it to be mean, taking it away from them, we wanted to take the time step in, and let the kids reflect on what's going on and help them make better decisions
"Today we're going to work on something else -- we're going to work on cooperation"
"You guys are going to draw a picture together."
In Mr. Hutchins 4th grade class, two children share one crayon to draw a single picture. Normally they'd be at recess right now but it's been replaced with a classroom lesson that teaches cooperation.
Putting playground on hold is giving teachers an opportunity.
And children a chance to learn positive skills they can put to the test - when recess resumes at Vae View Elementary.
×
Most recent Utah stories