Estimated read time: 3-4 minutes
This archived news story is available only for your personal, non-commercial use. Information in the story may be outdated or superseded by additional information. Reading or replaying the story in its archived form does not constitute a republication of the story.
WEST VALLEY CITY -- The 17-year-old boy credited with finding a girl who had been assaulted has been arrested for the crime. West Valley City police Capt. Anita Schwemmer told KSL the teen was booked into juvenile detention facility Monday afternoon.
The mother of the victim, who did not want to be identified, said she didn't know the suspect, but her daughter was able to give police a physical description of the suspect.
---
"I just want everyone to know that she's doing great." Mother of 6-year-old girl who was assaulted on Friday.
---
"We're very proud of her. It's taken her a couple of days to even talk to anybody about what had happened, and she's doing really good," the mother said. "I just want everyone to know that she's doing great."
Life is slowly moving forward again for the 6-year-old girl and her family. She is still recovering physically, but her family isn't sure she'll ever be the same mentally.
"Emotionally, I'm sure there's things she hasn't talked to us before about," her mother said. "When she's ready, she'll tell us."
On Friday, the girl walked to her friend's house, down the street. Her friend wasn't home. The girl told her parents when she started to leave, the 17-year-old boy next door approached her.
The girl told her parents the teen asked if she was looking for her friend, and then said her friend was in his backyard. She followed him.
The girl's parents said their daughter hasn't talked about what happened next, but she had scratches on her neck and bruises on her arms and legs. There was also blood from a loose tooth that fell out.
The parents said the girl was found with her pants pulled down and there was evidence the teen tried to sexually assault her.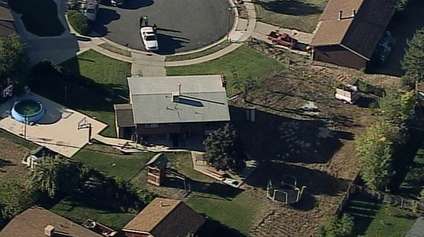 "We just hope that he is brought to justice," the girl's mother said.
Several neighbors saw police take the 17-year-old away in handcuffs Monday. A woman named Shelley, who lives next door to the teen, said she was saddened but also relieved.
She said, "My grandkids have been over here. They've been very frightened. They've been staying in the backyard and in the house, so I think the neighborhood will be more relieved that it's ended."
On Friday, the teen told police he was mowing the lawn when he heard the girl crying over the fence. The homeowner showed us the spot where she lay on the ground, barely conscious.
"I'm a little angry that he left her there, that he tried saying that he had found her," the girl's mother said.
On Saturday, the teen's father said police interviewed the boy, who he said has special needs. But he said his son deserved to be recognized for finding the girl and getting her help.
The teen's father, Don Bullock, said, "Luckily, the little girl got the help that she needed, but there is somebody out there that needs to be found that did this to this girl."
KSL contacted Bullock on the phone Tuesday, and all he said was, "No Comment."
Police say their next step is to meet with prosecutors.
------
Story compiled with contributions from Sandra Yi, Nicole Gonzales and Shara Park.
×
Related stories
Most recent Utah stories