Estimated read time: 2-3 minutes
This archived news story is available only for your personal, non-commercial use. Information in the story may be outdated or superseded by additional information. Reading or replaying the story in its archived form does not constitute a republication of the story.
Kim Johnson ReportingHow do you bring back arts education to an elementary school on a shoestring budget? Some parents in the Granite District asked themselves that very question, and then looked to themselves for the answer.
They decided to do it themselves. They have had support from outside arts groups, but in large part, this energetic group of parents tapped their own pool of talent to bring about a Renaissance Fair at their school.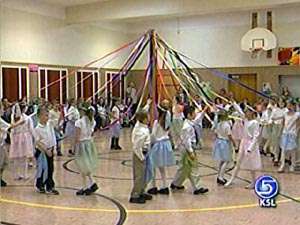 "All the world's a stage" this week at Cottonwood Elementary. From the Castle motif outside to the puppets, portraits, coats of arms, and stained glass windows, the school is alive with the past -- a past brought to life largely by volunteering parents.
Suzy Rasch, Renaissance Committee, Cottonwood Elementary: "We didn't have the money to pay the wonderful dance groups and the terrific artists, but we found them in our school and they were every bit as amazing and creative as people we could have paid."
A couple of parents constructed the Maypole and another parent taught the second graders the old dance of Rural England.
Julie Vail, Maypole instructor: "I think that dance is such an important part of helping kids learn, whether it's dance or something else. I think it really helped them to learn self-esteem. They were so excited, and some of the kids who didn't think they could learn it came up to me and said, 'I've got it, I've got it!' Just having success is important."
One parent constructed a catapult and then taught the students to make their own.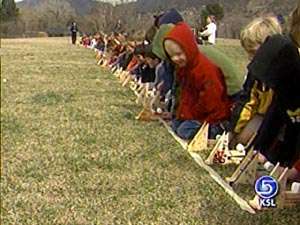 Mark Olsen, Built Catapult: "I think it shows them an example of ingenuity and physics and how simple things can be amplified and made stronger."
Suzy Rasch heads up a committee of parents determined to restore arts education at their neighborhood school.
Suzy Rasch, Renaissance Committee, Cottonwood Elementary: "We need art in all of our schools."
Rasch says thanks to parents and the support of other arts groups, the learning has
Suzy Rasch: "They know about Maypole dancing and they've heard of William Shakespeare now. And even our little kindergarteners are talking about Kathryn in 'Taming of the Shrew' and wondering who's going to play this horrible, feisty woman tonight."
What she's referring to is tonight's performance of 'Taming of the Shrew' at Olympus High. The touring arm from Cedar City's Tony Award winning Shakespeare Festival is performing tonight for students and parents of Cottonwood Elementary.
×
Most recent Utah stories