Estimated read time: 2-3 minutes
This archived news story is available only for your personal, non-commercial use. Information in the story may be outdated or superseded by additional information. Reading or replaying the story in its archived form does not constitute a republication of the story.
Shelley Osterloh ReportingRight now there are 244 people in Utah who are waiting for an organ donation. Half of them are waiting for a kidney. In some cases a living donor can choose to give up one kidney so that another person can live.
Nearly 2,000 Utahns, both adults and children, are approaching kidney failure and are now or will soon be in need of a transplant. Most everyone is born with two kidneys and now some people offer to have one of theirs removed and transplanted in order to save the life of another person, sometimes a perfect stranger.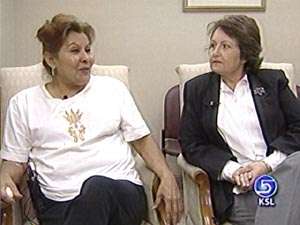 Aida Zapata has no kidney function at all. 25 Years of diabetes has caused her kidneys to shut down. So she limits her fluid intake, and for the past two years she has spent several hours, four days a week, hooked to a dialysis machine.
Aide Zapata: "It's been kind of hard. It's taken half my life away, in a sense, because I cannot do the things I used to do."
Because her own children are at risk for diabetes and kidney problems, they are not suitable donors.
Anita Domingo, Aida's Daughter: "It kind of bothered me to go and see her like in pain and stuff, making noises, and there's nothing I can do about it. Nothing medication can do about it."
She spends most of her time resting, gazing at pictures of her grandkids who live in Texas, wishing she could get away from the dialysis to visit them. But on this day she is about to meet for the first time a person who will save her life by giving her a kidney. It is one day before the surgery that will change her life and Aide meets her Good Samaritan.
They both introduce family members, but it's all too emotional, too touching for Aide who believes God sent her this angel.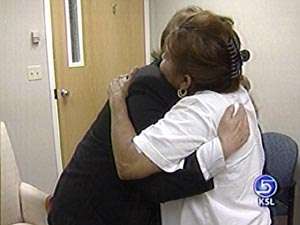 Aida: "Somebody else giving me life back again, that's what it feels."
Janine: "That's really special. It's a gift I can give and I'm totally willing."
Aide: "Thank you so much, can I give you a hug?"
These two strangers learn they have much in common. They both live in Ogden, both have children and grandchildren.
Janine says she had two friends who died because they did not get a life saving transplant, and as she approached her 50th birthday she wanted a way to show her appreciation for the good things in her life.
Janine: "I appreciate the fact that I am healthy, my children and grandchildren are healthy, and I wanted a way to express that."
So after nearly a year of psychological and physical tests Janine was accepted as a living donor and she was matched to Aide.
Aide: "Just a miracle. She is my little angel. That's all I see because without her I wouldn't have the hopes."
×
Most recent Utah stories