Estimated read time: 22-23 minutes
This archived news story is available only for your personal, non-commercial use. Information in the story may be outdated or superseded by additional information. Reading or replaying the story in its archived form does not constitute a republication of the story.
SPRINGFIELD, MASS. -- The full speeches from former Jazz guard John Stockton and current Jazz coach Jerry Sloan as they take their place inside the basketball Hall of Fame. [CLICK HERE to read John Stockton's speech]
Jerry Sloan
This is pretty tough for me. It's not something I like to do. But I guess I'll get started now. This is a long way from McLeansboro, Illinois and I am honored to be here. Being inducted into the Naismith Basketball Hall of Fame is an achievement unsurpassed in my career. From my beginning in McLeansboro, the game of basketball has introduced me to opportunities and life experiences I never dreamed.
When I was a youngster, youngest of ten children raised by my mother on a farm which was located sixteen miles to the nearest town. My father passed away when I was four years old and my older brothers and sisters had to help take care of our family. They could not play basketball because they had to work, the older ones. Fortunately, for me, my family was instrumental in my decision to play and their support was unwavering. The first six years of my education was spent in a one room school. We had all eight grades in one room and my teacher was also the basketball coach. At that time the boys and girls played on the same team. Later, the girls went on to be cheerleaders just like Vivian said. There was no Title IX back then. Playing on the same team as girls was a true motivator for me. I was secretly happy when they were not allowed to play once we reached high school because many of them were much better than me. My best friend, David Lee, he has his sister who was on our team and was better than either one of us.
My freshman year of high school I played for Coach Gene Hale. He was the head football coach and freshman basketball coach. He went on to become the head coach for basketball, football, and track. Under Coach Hale in order to play either one of those sports, basketball or football, you had to run track, and there is nothing I hated any worse than having to run two miles. But, I soon realized that what he was trying to do for me by making me run the hurdles and run long distance would help my career and maybe I could become a better athlete. This is a little bit unusual.
Coach Hale demanded that we were practicing basketball before school started and again after school. We didn't have a car to drive, so I had to hitchhike sixteen miles if I wanted to play. Early on, we made a lot of sacrifices to try and play this game. Coach Hale pushed us hard. If we did not play hard enough for him he would say to us, "You guys are just a bunch of drug store cowboys, setup by drinking milkshakes." And no one wanted to be a drug store cowboy.
When I got through at high school I went to the University of Illinois in Champaign. I didn't last very long. I was there about the time basketball started, spent a couple of weeks, and I was so homesick I couldn't stand it. Basically, I had never been out of the county. So, I went back home and went to work in the oil fields and that was a tough job. And then one day my mom asked me if that was what I was going to do with the rest of my life. The best thing, I had a conversation and I called Arad McCutcheon, who was my basketball coach at the University of Evansville.
It was Evansville College then, a Division II school. I asked him if he had any scholarships available. And at the time they didn't have any scholarships available. At the time they were in the third of a quarter system, so I wasn't able to enroll in the school, so I got a job at a whirlpool plant in Evansville. That gave me an opportunity to kind of get adjusted to the community and being away from home. And that helped me get myself established.
Coach McCutcheon, later he welcomed me to school and Evansville became my home. He gave me the confidence and support that I needed before I could ever play a game for him. Coach McCutcheon is inducted into the hall of fame. He won five championships, small college championships. He was an unusual coach. He did things to draw attention to the community and the team. One thing we did was to wear boxing robes out on the floor. For our games, everybody hated to wear them. To begin with each of them were a different color. Another thing was our nickname was the Purple Aces. Our uniforms were orange.
But, trust me, we were noticed because of things we did. Coach MCutcheon never cut a player. Our practices were never long, maybe an hour and ten, fifteen minutes. But if he had twenty players that would try out for the team we would have twenty players that would dress at all of our home games. When the first group left, he switched out and went on down the line and worked until everyone had gotten their opportunity to play. That didn't mean that they were going to get my job.
I had some terrific teams in Evansville, had some terrific players to play with. Larry Humes, Sam Watkins, Herb Williams, Russ Grieger, Wayne Bolenhouse, who is here tonight, Buster Browly and many others. Due to our success as a team, I was drafted two years in a row by the Baltimore Bullets. I was eligible to be drafted after my junior year, but I elected to stay in college and finish my degree.
My first year as a rookie in the NBA, I learned to be a hell of a cheerleader, because I wasn't ready to play in this league. Still, I'd go home at night with a terrible headache because I wanted to play. Paul Seymore was our coach, a veteran coach, had guys like Johnny Kerr, Gus Johnson, Bob Ferry, Kevin Lockrey, Don Old, Johnny Eagen, Jim Barnes, Johnny Green, Ben Worley and Bailey Howell. Those guys made it hard for me to get playing time.
Johnny Kerr, who was also my roommate, we had to switch rooms every once and a while and Johnny was my roommate and I became very good friends with him. He told me if I was going to play in this league I was going to have to unwind. He said you are like a spring that is getting ready to explode in a watch. You're wound up to tight. Bailey Howell is a Hall of Famer.
Bailey was one of those guys that knew how to work to make himself better and he taught me how to prepare to play. We would go work out 1-on-1 days before the game and, regardless of where we were, he would spend time, he would knock you on your rear end, didn't make any difference if you were a rookie or whatever, he was going to fight you all day long and I have tremendous respect for him.
At the end of 1966, the Chicago Bulls started a new expansion team in Chicago with Johnny Kerr as the coach. I was on the expansion list. I was one of the guys they were getting rid of. Johnny was responsible for me to get to Chicago. That was one of the great thrills of my life, being 300 miles closer to home. Our first year in existence, the Bulls made the playoffs. It doesn't sound very good. I have been to an NBA championship. But that was one of the most satisfying years of my career.
Eighteen guys go to camp; eighteen guys fight for a job. You are not given one. From that team by making the playoffs, Johnny was coach of the year and after two years moved on to Phoenix Suns. Dick Motta became the new head coach of the Chicago Bulls.
Dick was coach for most of my career in Chicago. He was a no-nonsense kind of guy. A great teacher, fundamentalist, and a fierce competitor. His style of coaching seemed to fit for my style of play. The trust Dick put in me, the decisions were made, the long talks we had, helped me formulate a lot of ideas we still use in coaching today. I need to mention some of the players who were great teammates in Chicago: Tom Lloyd, 6'11, built my back yard when he bought the house behind me. I said, "Tom we were roommates one day. The next day, you're in my backyard looking out the window."
He said I got that figured out. He said, I'll build a fence 6 feet 10 I can see over and you can't. Chet Walker, Bob Love, Bobby Wise, Clifford Ray, who's here tonight, Guy Rogers, and many other teammates including Norm Valier. Norm came to Utah last year with a surprise visit. Norm didn't come to Utah very often. But I look back on it now and he came to say goodbye. Norm was one of the toughest guys I ever played with. Certainly miss him. He would babysit my kids when we played together in Chicago. I have tremendous respect for the way he would approach every day, the way he would approach practice every day, and it was a pleasure to play with him. I remember before my sophomore season in college Coach McCutcheon telling me that someday he would like me to come back and coach Evansville and replace him as the coach, hopefully ten years later. I played professional basketball for about ten years and I finished the job just about the time he was ready to retire.
My career as a player ended due to a knee injury. I was offered the position of head coach at Evansville, Coach McCutcheon's wish came true. Unfortunately, I lasted five days. I resigned for personal reasons and went back to Chicago. I was replaced by Bobby Watson in Evansville and sadly he was killed, in that fall, along with the entire basketball team and traveling staff.
Their plane crashed on takeoff while leaving Evansville and everyone was killed on that team. That incident on December 13, 1977 made me realize that there are a lot more things more important than basketball, even though I love this game. I will always be grateful for what it has given me.
After leaving Evansville, I became an assistant coach to the head manager of the Chicago Bulls. After two seasons I was released by the Bulls. A year later I was rehired as head coach of the Bulls. I was a head coach for two and a half years. I would like to thank Rod Thorn and the Chicago Bulls organization for giving me an opportunity to start my head coaching career. The guy that was by my side coached me through all the ups and downs during those early years of coaching as well as the end of my carrier as a player was Phil Johnson. Phil is here tonight and is still with me as an assistant coach at Utah just like he has been throughout my entire career. Because I occasionally offer the officials a little advice Phil has been on the bench for the end of many more games than I have.
1982, Phil went on to become an assistant coach for the Utah Jazz under Frank Layden. In 1984, I took a job with a CBA team in Evansville, Indiana. We were just getting ready to start the season when Phil called me and said he was going to Kansas City as a head coach and if I'd like to come to Utah, he told me to call Frank Layden. For me the rest is history. I was an assistant coach to Frank for roughly four years and I certainly loved working with Frank Layden. I could have spent my entire career being his assistant. He had a terrific way of getting players to play at their highest potential of all times. He could undress a player in the locker room as well as anyone I have ever seen in my life. And they still had their clothes on.
In December of 1988, Frank decided he wasn't going to coach anymore and become the Jazz team president. Dave Checketts was also there. I became the head coach the next game and got permission to get Phil back with me. He came to the Jazz and at that particular time the team was owned by Sam Badistone. A wonderful owner, but shortly thereafter, Larry and Gail Miller purchased half of the team and then all of it. I have been truly blessed to work for Larry, Gail and the Miller family. Larry was always a hands-on owner. He is very intense and compassionate about the game and about the team. This is a little unusual. He was in the locker room before the game, at halftime, and after the game. At first I was a little bit intimidated, but a good thing came. He knew firsthand what I had to deal with. He never heard anything as secondhand news. Not many coaches lose 56 games and still keep their jobs. But loyalty is the number one reason I am still coaching the Jazz. The confidence Larry showed in us for over twenty years is unparalled in this business.
As a head coach, I have had the opportunity to coach great players and watch them develop. You all know about John and Karl, Jeff Hornacek, Mark Eaton, Adrian Dantley, Artis Gilmore, Reggie Theus, Howard Eisley, Deron Williams, Carlos Boozer, Greg Ostertag, Matt Harpring, Thurl Bailey, Byron Russell, among many. I have been blessed to have great assistant coaches in my twenty plus years with the Jazz and also with the Bulls. Phil Johnson, Scott Layden, Ty Corbin, Gordon Chiesa, Kenny Natt, and Gene Harmonel. I'd like to thank also the trainers and assistants along my career: Mark McCowen, Gary Briggs, Brain Zetler, Terry Clark, Mike Chimiski, Don Sparks, Bob Beo, Joe Prosky, Doug Atchkinson, Richard Smith, David Fredman, Mark Fowl. I would like to give thanks to the people behind the scenes including the front office, public relations department, scouts, and the media. Thank all the friends and fans for all of your ongoing support. Judy Adams thanks for all you do for us. I want to thank Kevin O'Conner for nominating me to the hall of fame and for all your support over the last ten years, both off and on the court.
In closing I would like to recognize my late wife Bobbie for all her unwavering support and for taking the lead and raising our wonderful children who are here with me tonight. Kathy, Brian, Holly, and my seven grandchildren. As I mentioned earlier, I have learned that there are many things that are more important than basketball, but meeting my wife Tammie and my stepson Red has allowed me to continue on with my career in basketball, when I question my strength to do so. I would like to thank all of you for being here this evening and congratulations to my fellow inductees. I could not be prouder. It is truly an honor to be among such a well-respected and talented group of individuals. Thank you all very much.
John Stockton
So what am I doing here? I'm a small kid from Spokane, Washington, that was mooching Nilla Wafers from my neighbors that are here today, waddling around in big shorts, and now I'm being inducted into the Hall of Fame in short shorts. Something to miss.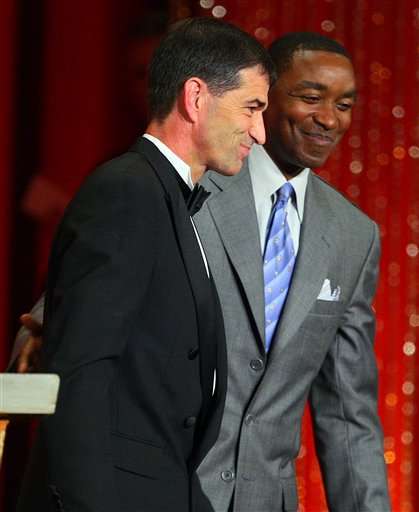 I do know that I played 30 years competitively. Three at St. Aloysius, four at Gonzaga Prep, four at Gonzaga University, and all those years not once, never, was I the best player on my team. I had a shot at it one year because two of our best players got hurt, season ending injuries. One of those is here today. I wasn't even the best player in my own house. My brother Steve boasts a record of about 1000-1 in bloody driveway battles and that one victory though ended all the games so that is my one claim to fame with Steve.
Yet out there there's a large group of people that traveled over 1000 miles, some from Hawaii, some from Alaska, just to support me. You almost start laughing there because I think they actually came to see Michael. You know he makes one big shot and everyone thinks he's kinda cool, I don't get it. Out here in the crowd are lifetime family friends who never missed the call to raise money for trips or for uniforms. Then they'd support the family by going down to my dad's tavern, Jack and Dan's, and expertly critiquing our performance game in and game out. They continued that process for the 19 years watching the Jazz on satellite.
Some out here are my friends from Salt Lake and the Utah Jazz that adopted me into their family; welcomed my family as it grew and grew and grew. Better not forget before I kind of get interrupted here, not forget to thank the people from the NBA and USA Olympic basketball for providing the place where all my dreams played out. Thank you.
So I'm here because I represent the talents and efforts and beliefs of hundreds, maybe thousands, of people that contributed. The top of the list is mom and dad, Jack and Cleme Stockton. Before I get to him, well, Larry Miller our team owner used to start crying when he talked a lot and he'd take a credit card, kinda scrape the tears off his face and just keep plowing through. I don't know if I'm going to be so lucky, but dad you're my idol. Always have been, always will be, and I try to copy you daily. Mom passed away a few years back and she had tremendous strength and grace. She deserved to be here. I hope you know how much I love and appreciate the both of you.
Steve my big brother; ideal big brother. He's here with his family Mary Anne, Steve, Sean, and Riley. He just seemed to know when to rough me up a little bit, when to dust me off and pat me on the back. I guess I must have needed an awful lot of beatings just for my own good.
Stacey was the best big sister a guy could have. Unconditional loyalty and friendship enhanced by some world class cookies and a whopping laugh that is unparalleled.
My little sister LeAnne. Perfect little sister. Tough and caring and insists on doing things the right way. Someone I've counted on for insight throughout all these years.
My first buddies, George Lucas, Steve Brown. I know Steve is here tonight. Growing up in a neighborhood those bonds of friendship run deeply. My first basketball coach Kerry Pickett back there provided the foundation for basketball, taught and challenged me in so many different ways and still does today.
Soon after coach though, I had a several coaches that took a chance on a small skinny kid with enormous feet. Terry Erwin and Ed Smith, coaches at Gonzaga prep. Dan Fitzgerald took a gamble on me at Gonzaga University offering me a scholarship and then he backed it up with an awful lot of tutoring afterward. Jay Hilock, the head coach at Gonzaga U, trusted me despite all those darn turnovers from the one-handed passes he hated so bad.
Unlike today, Gonzaga, it's come a long ways, very proud to be a 'Zag. But unlike today they have towels and actually have a shower in the locker room. We didn't have any of those things. Jerry always used to say you have to travel the old yellow school bus once in a while so that you appreciate things. Well, we appreciated a lot at Gonzaga because we rolled broken vans or a broke blue military bus and we really learned to appreciate.
If we could get to a game we knew we had a chance to win. Our trainer Steve DeLong is here. I always used to joke he was supposed to help me not hurt me. Right when we started weight-lifting our freshman year, he had these delightful lifting drills and I'd cramped up, both hamstrings cramped up and I was froze. I couldn't move and he just waited and let me holler for a while. Then he eventually came over with a smirk and helped me out, but since then he has remained a valuable friend, work out partner, rebounder, and adviser for many years.
Frank Layden, continued taking the risks when he drafted me 16th pick overall. I'll never forget Hot Rod Hundley's announcement when it was received by the fans with a mixture of "who?" and boos. I think they wanted somebody else. I have to be the only draftee, in fact, I almost guarantee it, the only draftee that was still living at home with his parents at the time of the draft. So he was way out there on a limb. I learned a lot from him before he turned the reins over to Coach Sloan.
Now Coach Sloan is what the NBA should be about. Committed to your teammates, your coaches, your organization and the game of basketball, he's never asked for credit. In fact he avoids it. His record speaks for itself and he's created an environment for his teams to win and they do. I am fortunate to have played for you coach, congratulations again. We were both fortunate to have Phil Johnson and the other coaches as well as a long list of committed players to compete with. I see Mark out there, Thurl I think, Tyrone, Jeff, just to name a few. Tremendous guys to play with. It was an honor to compete with you day in and day out.
Now one guy I should mention, just a little name, it's Karl Malone. With all due respect, David and Tim, but the greatest power forward that ever played the game. He can't be here tonight. He had an illness in the family so I'll continue on by saying he was our best player for 18 seasons and he drew a lot of attention. I wish he was here tonight drawing a little bit of attention. I used to tell him it's mighty lonely up here but I'm going to save this tuxedo and press it up for next year for him.
I had the same commitment behind the scenes from day one, way back home with the coaches from many, many sports. Coach Bob is back there. People behind the scenes, Virginia Pickett, Dale Goodwin, Father Cog and Steve Hurtz, great friends that have stuck with me. The docs from Spokane that have kept me healthy as well as the people from the Jazz. Judy Adams is here. The PR Department. Got very used to hearing the term "No, but thank you for asking," when we would ask to go do an appearance for something. And the trainers and doctors are here as well and we know we can't do anything without them, especially Craig Buehler and Greg Roscof, a couple of guys that worked their magic and countless hours after the games were over.
Finally none of this could have happened to me, or the Jazz in my opinion, without the courage of one man, Larry Miller. Larry Miller is the owner of the Jazz who passed away this past spring and his wife Gail and his family are here today. He turned the Jazz into a winner.
I guess we just played follow the leader because that's what he is, that's what he was, a winner. Gail, Greg, family, thank you for sharing him with us. He's a great man. They say that a good man needs a good woman behind him, but I'm not sure I want my wife Nada behind me. My peripheral vision isn't that good and she has great aim. She stood beside me for 23 years and her dad Mike Stepovich and a large part of her 15 person family is out there as well to support me tonight, but she was my best decision.
I always knew that when I left for a road trip I could shut the door behind me and go to work because I knew everything at home would be taken care of. Thank you Nada for being there. My dad used to say that girls will ruin your game and I am pretty sure he's right, but I couldn't hold out forever. My youngest son down there actually pointed out that I actually got better once I had his mom to show off to.
Together we've been blessed with six remarkable children. Houston, Michael, David, Lindsay, Laura, and Samuel. I'm very proud of all of you and love what you bring to the dinner table each night and it isn't the food. Houston, your work ethic and determination are a going example to your younger brothers and sisters.
Michael, your gift of communication lights up a room. With your outgoing personality there's just nothing like it. I know some of you, Charles, you ran into that a couple of times.
David, with your contagious sense of humor and an appreciation for everything in life.
Lindsay, you mix an amazing array of talents with the grace of your grandma Cleme. And Laura, you're the kindest, sweetest warrior you could meet at any venue.
And Samuel, last but not least, your spirit and enthusiasm rounds out our team and you keep our house hopping.
Well I think about all the people who have touched my life, helped me along, or brought out the best in me by whatever means, I'm overwhelmed and yes humbled. I can't begin to adequately thank even a few of you; the crowd over there is amazing.
I want you all to know I feel honored to be on the stand up here in front of you and represent you on the stage tonight. To everyone back home in Spokane, back home in Salt Lake City, or maybe wandering around in Springfield looking for a ticket, or anywhere else you might be, thank you for sharing this honor with me tonight. Good night.
[CLICK HERE to read Jerry Sloan's speech]
×
Most recent Sports stories