Estimated read time: 2-3 minutes
This archived news story is available only for your personal, non-commercial use. Information in the story may be outdated or superseded by additional information. Reading or replaying the story in its archived form does not constitute a republication of the story.
Samantha Hayes reporting One after another, storms have walloped the Wasatch Mountains. But the snow won't stay put.
A huge avalanche came within 50- feet of a home, in Utah County, and there may be more to come.
"As soon as it warms up this weekend, all this new snow is going to get wet and sloppy and want to come down the mountain like a million concrete trucks dumping their loads all at once."
We are coming close to record snowfall, this season. With each storm, the danger of avalanches increases.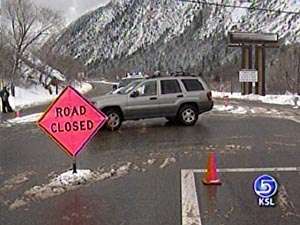 There has been 44 inches up in the Cottonwood canyons in 48 hours. It has been enough to close Little Cottonwood Canyon Road for avalanche control all day.
Bruce Tremper, Director, Utah Avalanche Center: Right now we're really at a high danger."
A large slide -- about 200 yards wide -- occurred Wednesday evening in the Woodland Hills area between Salem and Payson in Utah County. Sheriff's officers said it did not appear anyone had been caught in it.
Toby Harding, Mayor of Woodland Hills: "As far as we can tell there isn't any immediate danger to property in the area or danger to residents."
In Provo Canyon, the risk of rockslides is high.
And at the mouth of Little Cottonwood Canyon, a snow covered sign stopped drivers from going any farther.
James Beard, Stranded: "We've been sitting on the bus here since six o clock this morning, hoping the road would open, the road never opened, tried walking up, cops stopped us."
Ski resorts have double last year's base. Solitude reports 636 inches total. That's just over 50 feet.
Nathan Rafferty/Ski Utah: "We came up here and we measured. This is the sixth floor...right at my feet is 600 inches."
It's a skier's delight.
Nathan Rafferty/Ski Utah: "If you can't have fun skiing in Utah this year, forget it...sell your skis and move to Arizona. This is the year to do it."
But the snow has been deadly for many in the backcountry this year: Seven people have died in avalanches. Even though we are heading in April, the danger is as high as its been anytime this season.
Bruce Tremper, Director, Utah Avalanche Center:: "Spring is especially tricky conditions because during storms like this its winter..so you have to deal with dry slab avalanches and as soon as the sun comes out suddenly they turn into wet avalanches."
Little Cottonwood Road is expected to open tomorrow morning.
Call the avalanche center for a report before heading into any out of bounds areas.
×
Most recent Utah stories