Estimated read time: Less than a minute
This archived news story is available only for your personal, non-commercial use. Information in the story may be outdated or superseded by additional information. Reading or replaying the story in its archived form does not constitute a republication of the story.
(KSL News) -- Two employees got a scare this morning at Fed-Ex. After opening a trailer, both were overcome with a strong smell.
Haz-mat and fire crews called to try and figure out where the smell was coming from and if it was toxic.
The trailer the smell came from was carrying packages that had been on the road for a while. Once crews got inside, they didn't find any of the packages leaking, or broken -- and determined the odor was not harmful.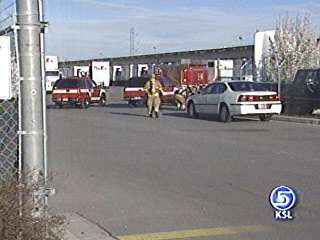 It's likely they'll never figure out what caused the smell or where it came from.
Dennis McKone, Salt Lake City Fire: "In your trailers you could have anything -- I'm just going to throw this out -- it could be a dead rat that sat out there. Decomposed, it could be anything."
The two employees were treated on site, and began working again shortly after. There were no damages to any packages.
×
Most recent Utah stories