Estimated read time: 2-3 minutes
This archived news story is available only for your personal, non-commercial use. Information in the story may be outdated or superseded by additional information. Reading or replaying the story in its archived form does not constitute a republication of the story.
Alex Cabrero ReportingChances are if you wrote something on a computer today, you used the "spell-checker" tool to make sure it was all spelled right. But when is the last time you used a dictionary?
From Aardvark to Zymurgy they're all in there -- the words and spellings of the English language. Of course, you've probably never heard of zymurgy, but ask a Provo 3rd grader now and they can tell you what it means and how to spell it.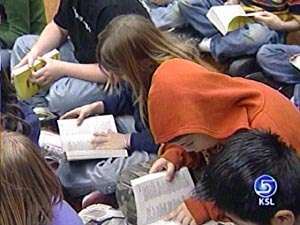 Children don't usually like books for gifts, unless of course it stops classes for a few minutes. But this isn't your typical elementary book; instead of once upon a time, it starts with "a" and can last hundreds of pages.
Rylie Halton, 3rd Grader, Sunset Elementary: "I like it because I can look up words I don't know how to spell.
That's right, 3rd graders at Sunset Elementary in Provo got a dictionary. In a world where spelling is usually checked by a computer, dictionaries aren't used nearly as much as they used to.
DeAnna Perry, 3rd Grade Teacher: "In third grade we have a lot of misspelled words and we don't worry about that too much on the rough draft. But on the final copy we want it to be correct."
Especially if that final copy is a job application later in life. And then, of course, the problem every 3rd grader comes across, how to find a word you can't spell in the first place?
Cristian Farias, 3rd grader, Sunset Elementary: "Well, if you know the first few letters then you can see how it ends to check, to find the word."
And if that doesn't work...
Hayley Miller, 3rd grader, Sunset Elementary: "I would either go ask my teacher or look around and see if I can find it."
Or do what us adults do, and just use a different word altogether.
The dictionaries were given to all Provo 3rd graders for free, thanks to the Provo Rotary Club.
×
Most recent Utah stories