Estimated read time: 2-3 minutes
This archived news story is available only for your personal, non-commercial use. Information in the story may be outdated or superseded by additional information. Reading or replaying the story in its archived form does not constitute a republication of the story.
TAYLORSVILLE -- A serial burglar continues to target Salt Lake County golf courses. Three were hit this holiday weekend, bringing the total to seven burglaries in the past week.
Surveillance video caught a lone burglar going through the Meadowbrook golf shop in Taylorsville last week. Monday night, four men are seen going through the place.
"We're not sure if this guy did bring back his friends," said Tim Fernau, director of Salt Lake County Golf.
The men didn't find any money, but they did grab $500 worth of merchandise. Golf course managers say the dollar value of the damage they did is far worse--about four times that amount.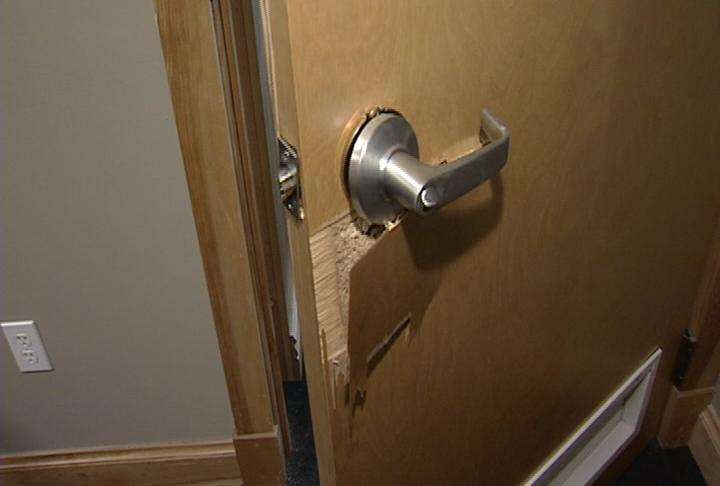 The burglars broke into the restaurant first, breaking the glass door with a rock and stealing food and drinks. Unable to get inside the golf shop through the restaurant, they went back outside and pried open the shop doors with a crowbar. They also went through the storage room and office, apparently looking for the safe.

"It appears that all they're after is cash in our safe," Fernau said.

The office door was already damaged from another burglary just three days before. Surveillance video shows a lone burglar wearing jeans, a green sweater and a mask. He wasn't able to get in the safe and left empty-handed.

"We do the best we can. We take all the measures we can, as far as making sure the money is safe, all the doors are securely locked. And for them to still be doing it, it's kind of disheartening. Makes you wonder what's going to happen next," said Adam Johnson, assistant golf pro at Meadowbrook Golf Course.

**Salt Lake County golf courses burglarized:**

- Old Mill Golf Course, Salt Lake City (1 burglary) - Mountain View Golf Course, West Jordan (2 burglaries) - South Mountain Golf Course, Draper (2 burglaries) - Meadowbrook Golf Course, Taylorsville (1 burglary) - Mick Riley Golf Course, Murray (1 burglary)

In the past couple of weeks there have been seven break-ins at various Salt Lake County golf courses. Video of the break-in at South Mountain in Draper two weekends ago shows the burglar going on a rampage with a sledgehammer. He tried to pound the safe open, but it didn't work. He also left empty-handed.

Managers wonder if the same person is behind them all because the thieves seem to know the layout of the offices.

"It seems that they're pretty persistent and they're going to stay at it until they are caught," Fernau said.

Golf course managers say the burglars have caused about $10,000 in damages. If you have any information, call your local police department.

E-mail: syi@ksl.com

×
Photos
Related stories
Most recent Utah stories